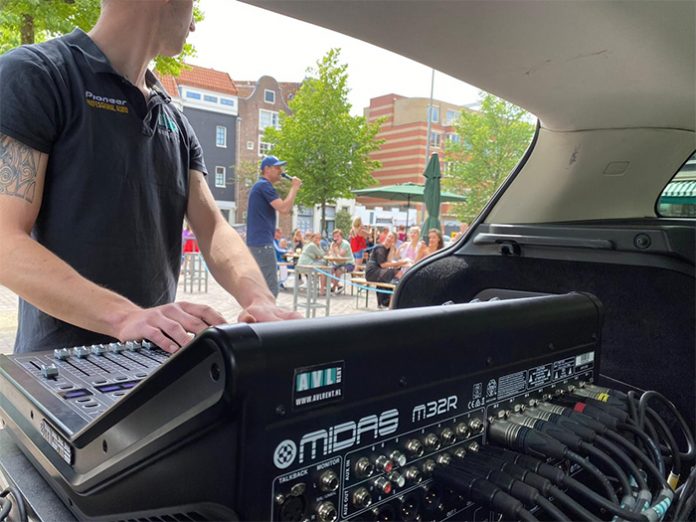 As restaurants in Amsterdam recently began to re-open their outdoor spaces, and in an effort to enrich the customer dining experience, AVL Rent teamed up with food wholesaler Bid Food and popular Dutch rapper Lange Frans, to stage a day of performances at six popular eateries. Lange Frans's whistle-stop tour involved arriving at each venue by car, performing two or three songs, taking a bow and moving on to the next assignment.
AVL Rent Owner, Wouter Ruijiter explained: "Yes times are very tough right now, but from the start of lockdown we kept our minds open to every possibility, thinking of ways we could operate safely within the restrictions. People love live entertainment and their appetite for it was only going to increase during this crisis. As soon as certain restrictions began to be lifted, it was clear we could do something on a small scale that would help people feel like they were getting back to normal. The fact that Lange Frans is very well known in The Netherlands added a lot of value too!"
AVL's and Bid Food's mobile rapper concept was based around a car, a generator, a mixing desk and a Pioneer Pro Audio XY-Series PA system. The execution of the project was the definition of adaptability. By carrying a small but high-powered, high quality system, Wouter was able to set things up in minutes. Mixing on a console strategically placed in the luggage compartment of his SUV, Wouter used a pair of Pioneer Pro Audio XY-122 two-way, full range 12-inch loudspeakers driven by a Powersoft X4 amplifier, delivering all the necessary power and coverage to enable Lange Frans to rap his message to diners at Winkel 43, Café Broer, Two Chefs Brewing, De Ebeling, Café Thuys and Café Cook.
At the end of a full-on day tackling the demands of different spaces, and ensuring the safety of all concerned, the mobile team declared the operation a huge success. Ruijiter concluded: "The response from the customers in the restaurants was fantastic – there were a lot of smiling faces. I think that as well as giving them some great entertainment, the appearances also gave people some hope that as a community we can begin to expand our horizons once again. It was certainly a unique exercise but we got into a routine very quickly. The Pioneer Pro Audio system worked brilliantly, looked great and was more than robust enough to survive our 'tour-in-day'. For me, it demonstrated that even in the most challenging of circumstances, with a willingness to adapt, we can still deliver a highly effective and fully professional service to our customers."