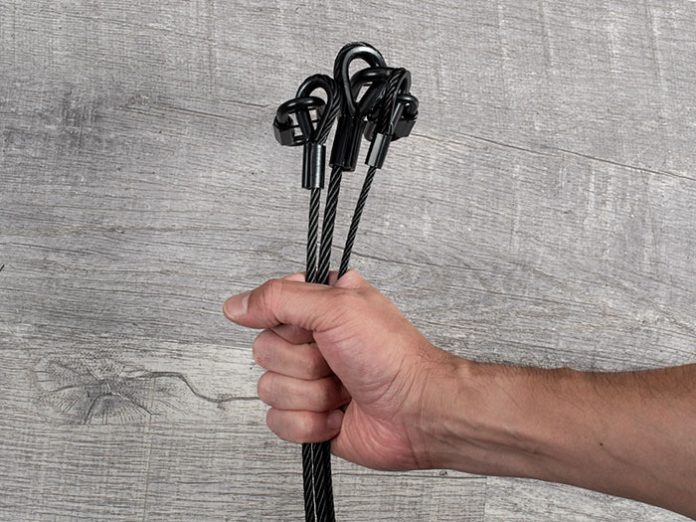 ADJ has upgraded the selection of safety cables available as part of its Accu-Cable range.
The new safety cables are designed to offer complete peace of mind for all professional lighting and production applications. The TÜV approved range features three different weigh-loading options.
The new safety cables offer increased weight ratings compared to the previous models. Crafted from high-quality steel, the cables offer excellent resistance to corrosion and wear, their rugged design provides exceptional tensile strength, allowing them to withstand demanding conditions and maintain their integrity over time.
The cables have TÜV approval, users can therefore have complete peace of mind that they can be relied on to provide fall protection for both temporary and semi-permanent entertainment technology installations.
Three models are available in the range: the lightweight SC4B model has a thickness of 0.16 inches (4mm) and can be used with equipment weighing up to 67 pounds (30kg). The intermediate SC5B cable has a thickness of 0.20 inches (5mm) and is suitable for use with equipment weighing up to 100 pounds (45kg). Finally, the SC6B version has a thickness 0.24 inches (6mm) and can be used safely with equipment weighing up to 155 pounds (70kg).
All three cables have a length of 31.5 inches (800mm), the cables feature a connection clip with a screw-in fastener for added security. The two looped ends of each cable are reinforced by contoured metal plates and a fall break loop is also included to absorb some of the shock of a falling fixture.
"As all lighting professionals know, safety cables are essential not only for protecting expensive equipment but also for keeping crew, performers and the public safe," commented ADJ USA's Director of Sales, Alfred Gonzales. "The new range of Accu-Cable Safety Cables has been designed to offer both a convenient design and ultimate reliability with increased thickness and weight ratings that are TÜV approved for safety with a load test ten times the listed weight rating. This reflects the evolution of ADJ's lighting portfolio, which now features larger and heavier products suitable for use on medium-to-large-sized stages and productions. Offering strength, durability, and versatility, these new Safety Cables can be relied upon to provide an added layer of safety for all types of fixtures that may be used as part of an entertainment technology production."