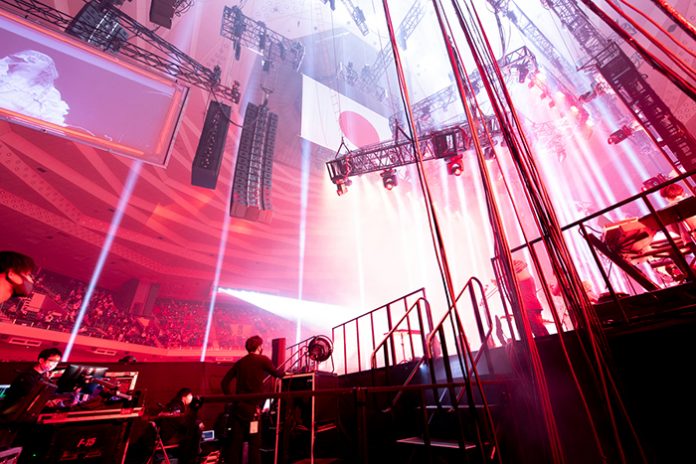 The Beatles, Led Zeppelin and Queen have graced its stage; artists from Bob Dylan to Blur have released albums recorded within its walls. Now, live music has returned to the legendary Nippon Budokan, as rising J-pop stars Little Glee Monster recently kicked off their Japanese tour at the iconic Tokyo venue. An Adamson Systems Engineering system supported the ground-breaking event for the group, the start of their largest arena tour to date.
The Budokan was built in 1964 as a martial arts competition space for the Tokyo Summer Olympics. The venue's octagonal shape can make sound reinforcement difficult, however, System Engineer, Ryuichi Kawakami selected Adamson speakers for their clarity and excellent coverage.
Kawakami described the space's challenges: "The Budokan is mostly built with wood, and many sections of the octagonal room have pillars and beams, so in the design process you must factor in the reverberation and reflections. The E15 speaker brings out an abundance of information across the whole frequency range, and it's what makes the tuning so easy for me. I trimmed a few points to smooth out the system, and voilà it's done."
For this show, 108 Adamson E-Series and S-Series cabinets were deployed across the venue in a 270° configuration. Kawakami flew 32 E15 as the main PA, accompanied by 12 E119 subwoofers flown in a column, 12 E15 as outfills, sixteen flown E12 for the 270° design and 12 ground stacked E219 subs for additional floor rumble. Two sets of ground stacked fills were also used, comprised of four S10 and one S119 at each side fill position, as well as three S10 per side for rear coverage and a mixture of S10 and S10p for lip fills. The system was provided by Sunphonix, Adamson's first and largest partner in Japan, as well as Blue Project.
In addition to the side fills, Adamson M212 monitors were also used on stage. "M212s have always been great monitor speakers to work with," stated Monitor Engineer, Takashi Ono. "For Little Glee Monster shows, we use both in-ear monitors and wedges, but for a cappella songs I simply go with M212, to let the artists breathe and sing in each other's presence. The members of the group have told me that they actually prefer the experience of singing with floor monitors, that it feels more organic."
Gakuji Okumura, long-time FOH Engineer for Little Glee Monster, was pleased with the performance of the Adamson system. "When it comes to mixing vocals live, the E15 is the best system out there. Its sonic characteristics make the musical experience authentic. Sit anywhere in the venue, and you'll hear the best of the mix."