Aaron Buck is a monitor engineer who grew up in the small mill town of Burnley, England. Having cut his teeth on tour with legendary punk band The Damned at the tender age of 18, since then, Buck has gone on to work for a range of bands and artists, including more recently, Yusuf (Cat Stevens), Shakira and OMD. Now residing in Bonn, Germany with his wife, Tanja, Buck tells TPi why he has founded Aaron's Monitored World – a podcast on the Ancroo Live network for the live music and entertainment community that covers gritty topics, from life in lockdown to the importance of mental health awareness on the road.
Where were you before the lockdown came into force?
Thankfully, we had just finished a short Scandinavian and north European run with OMD. Our last show was in Paris on 16 February 2020. The band are currently celebrating their 40th anniversary, so we did a large UK and Germany run in November and December and this year we were set to take on the rest of the world.
What was your reaction to the widespread cancellations of gigs and festivals?
The worldwide cancellations of shows and festivals felt so unreal – it still does in a way. You would never have thought the entire worldwide industry would ever shutdown like this. I think we all felt like small cogs in a huge unbreakable machine until recently.
How have you adjusted to lockdown living?
I don't know if I have fully adjusted to this lifestyle yet. It still does not feel natural or normal to me, but it's not all bad. Tanja tours extensively, too, so during the summer season and most of the winter, we must live with communicating via FaceTime or text for months on end. The current situation has provided us with some quality time together, so we are making the most of it.
Could you talk about the inspiration behind Aaron's Monitored World?
The Ancroo Live platform is entirely the idea of my friend and colleague Andi Flack – a well-known rigger and mental health awareness activist in the live events industry. We were touring together at the end of last year and we got talking about mental health issues within the industry. He explained the good work that he was doing with the Ancora group and some of the projects he was hoping to put together. I offered him my support if he should ever need it as we shared similar views on a lot of topics regarding the industry.
What was the discussion process?
At the start of March, Andi told me about the platform and asked if I could support it by uploading a playlist for people to listen to during this strange time. I thought the idea of Ancroo Live's radio station was great; the industry was about to be placed on hold and people would need something to listen to and engage with during this time. I uploaded a couple of hours of music and helped put together some playlists. It wasn't long before we figured out that people wanted to hear a voice, a real person talking about real things and not just a playlist. I was the only one of us with a microphone and a method of recording it, so I agreed to give it a go.
How has the project evolved in the recent weeks?
I am up to 15 episodes now. I was initially reaching out to my industry friends for call-ins, which was all I was comfortable doing at first. My great friend John Gale (FOH Engineer for Björk, among others) nicely agreed to go through the first one with me and touched on topics such as life during quarantine and ways to keep busy during lockdown. Dennis Philbert (Danish Audio Tech) was another close friend who supported me and came on as a guest on one of the first shows with some details about COVID-19 and lockdown in Denmark.
Who has appeared on the podcast thus far?
Once we could see this was something people were listening to, Andi Flack, who put the Ancroo Live thing together, started contacting a range of touring personnel from across the industry. Tiffany Hudson (Owner and Therapist at Therapy on Tour), Ciara Davey (Tour Manager for The Cranberries, Avicii and many more), Paul Harris (Ibiza-based pyro legend), Helena King (Ginger Owl Productions), Sarah Birnie (Caterer and fellow Ancroo Live team member), Gary White (from the #LightItBlue campaign), Mikkel Holm (Nordic Rentals) and John Delf (FOH Engineer for Crystal Fighters, James Arthur and many more) have appeared on the show to share some words of encouragement and give an update on life during COVID. I must give a special mention to Jim Cullen (a Midlands-based rigger) for bravely and selflessly opening up about the death of his son, and how he found his role within the industry helped him and continues to help him get through life since that event. That was a tough, but very powerful episode and I'm so glad we got through it.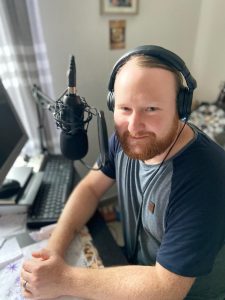 What has the response been like so far?
The response from people who listen has been great. I get messages from people who I haven't spoken to for years thanking me for giving the industry a voice, and 'saying it like it is'. The guests are all very supportive of what me and the team at Ancroo Live are doing and it's been very encouraging. There are always pockets of people in our industry who dislike fresh ideas and refuse to get behind something that they are not involved in, but that's just the way it is, and I learned to live with that a long time ago. Our take on this has always been that if this helps just one person through a difficult time, it's worth doing and we stick by that.
What can listeners expect when they listen to an episode of the podcast?
My episodes contain a good amount of music because, for me and a lot of people in the industry, music has helped us get through a lot of hard times and will continue to for many years to come. I raise a lot of topics, ranging from current world affairs to cooking ideas, and I am known to have a little rant from time to time, too. Some of the chat is classic tour bus chat, while some of it raises key issues. It's not a perfectly planned and executed show by any means; it's largely unscripted and unedited chat with some songs thrown in.
You have spoken openly about the importance of mental health. Why is it important to create a space for the live music and entertainment community to communicate during COVID-19? 
The industry is made up of thousands of incredibly talented and gifted, hardworking people, who know how to make the impossible, possible. We are all problem solvers, fault finders and perfectionists, but this is one situation that we cannot fix, or perfect. It's frustrating, it's scary and it sucks. We are constantly striving to make ourselves, and whatever we are involved in better, stronger and more efficient. Being faced with a situation that we cannot change, move or get around is almost unheard of but here we are.
Everybody in the industry has at some point experienced what I call 'the January panic'. You are staring at an empty diary, and it feels like it will never fill up. What did I do wrong? Why does nobody want to hire me? Why do they have all the work and I have none? These are some of the questions and doubts that bounce around our heads, but the diary inevitably fills up like every other year and all is well. This situation can feel exactly like that but multiplied by a thousand.
An industry colleague of mine, Omar Sanchez, took his life at the start of this year. Perhaps without even knowing it, he helped me get through some damn hard times a few years ago. I have lost track of how many people we have lost to mental health struggles over the years and it's heart-breaking. This COVID-19 situation is hard for even the strongest amongst us, and I can only imagine the damage it is doing to people worldwide. This could be used as a great opportunity to address some of the issues the industry does not normally have time to stop and address. Mental health, racial prejudice, homophobia, ageism, sexism, etc. Ancroo Live is a space available to all who need it, and to see it used for more and more good work would be wonderful.
Will you keep this podcast going post COVID-19?
Ancroo Live is set to stay running as long as there is a need and intends to grow and become more relevant. I aim to keep my show running post the COVID-19 shutdown. I may have to cut back to once a week depending on my schedule, but I want to keep it going if it is still relevant. Being out on the road with my show might even make it more relevant and I may be able to address more issues than I can now.
When is the next episode and where can people find the podcast?
My shows air at 6pm (GMT) Mondays and Fridays and can be listened to live here or you can find a full list of previous shows available to listen back here. As well as on a wide range of podcast networks, I believe.
What are some useful resources for live music and entertainment crew?
There is so much online education available now. Learning is a great way to stay active and use some of that dormant brain power. With regards to mental health, I'm glad to say that there are quite a lot of resources out there nowadays. For example, Music Minds Matter, Music Support and Help Musicians are just a few. If you are looking for a one-to-one therapist who was toured and experienced our lifestyle, Tiffany Hudson at therapyontour.com is awesome. Women in Live Music (WILM) also are doing great work to help people across all sections of the industry with a whole range of issues.