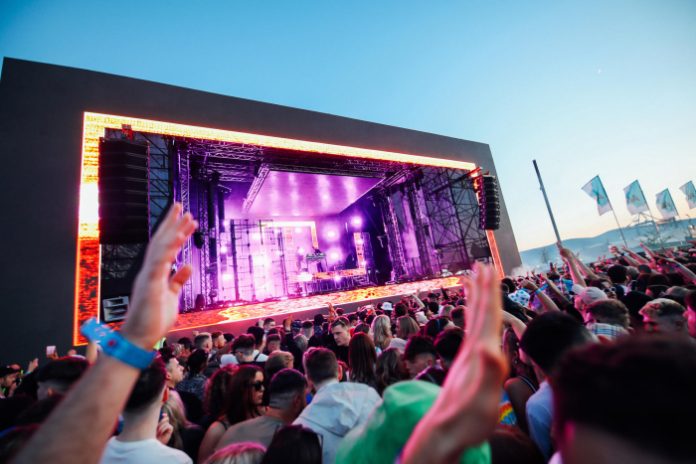 Funktion-One's R&D team will lead a demo day being hosted by the loudspeaker manufacturer's distributor for Germany at Movie Park in Bottrop. The event, which takes place on Friday 21 April and is open to audio and event professionals, will deliver a detailed showcase of Funktion-One's Vero VX and provide an opportunity to listen to the recently launched Evo X. 
Funktion-One: A Day in the Park will take an in-depth look at Vero VX, hearing directly from Funktion-One founder Tony Andrews, product support/live sound engineer Will Wright, and acoustic design engineer James Hipperson. The programme will explore the Funktion-One design philosophy and the technological breakthroughs that steered the development of both Vero VX and Evo X. Attendees will have an opportunity to get involved in a Vero VX system design and set-up, followed by soundcheck and performance with a live band. 
Funktion-One Germany's Benedikt Koch said: "We're delighted to welcome the Funktion-One R&D team to Germany for this special event. Vero VX is a game-changer for live events. In terms of audio performance, there's nothing in its category that comes close. It is extremely efficient, which means fewer speakers, fewer amplifiers, and reduced energy requirements."
Since its launch in 2019, Vero VX has found appreciative audiences around the world. From one of its earliest outings at Gottwood Festival in the UK, to AVA Festival 2022 in Belfast, to the very recent deployment for Resistance at M2 Club (part of Miami Music Week 2023), Vero VX has earned plaudits for its ease of use and the quality of its audio presentation – particularly its stereo imaging capabilities.
German rental company nspire has enjoyed working with its Vero VX system for the last year, explains Head of Audio, Jan Zalewski: "In addition to the good sound, the Lambda rigging system makes it easy to handle. The simple possibility of ground stacking increases the system's flexibility and it is very efficient. It's possible to run eight VX90 enclosures with one Powersoft X-Series power amplifier. We also enjoy the charming, direct and very friendly communication between us as users and the manufacturers and developers."
Funktion-One: A Day in the Park is open to audio and event professionals from Germany and its neighbouring countries. For more information, including registration details, please visit: funktion-one.de