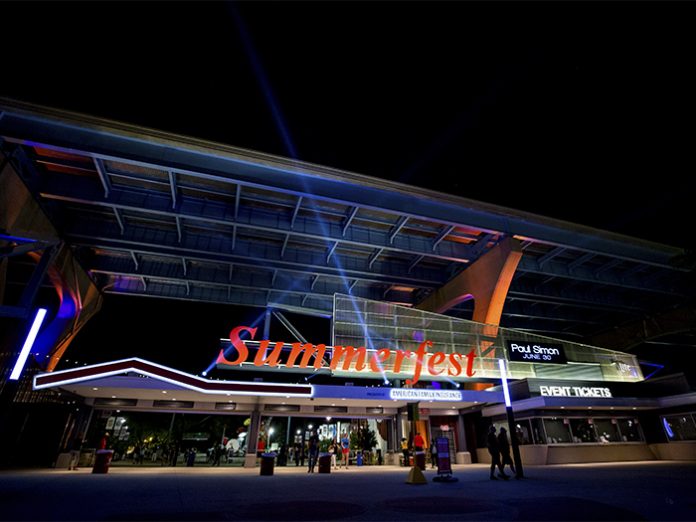 Summerfest marked its 50th anniversary this year on the grounds of Henry Maier Festival Park along the Milwaukee lakefront. Clearwing Productions provided MA Lighting consoles and an array of Claypaky fixtures and Robert Juliat followspots. MDG atmospheric hazers were also on hand for the 11-day event, which is billed as the world's largest music festival.
Summerfest attracted more than 830,000 fans to its 11 stages where more than 800 acts played daytime and nighttime performances.  Among the headliners were The Red Hot Chili Peppers, Paul Simon, Pink, Tom Petty & The Heartbreakers, Willie Nelson and Bob Dylan, Luke Bryan, The Steve Miller Band and REO Speedwagon.
Clearwing Productions provided audio, lighting and backline across the Summerfest grounds.  The company supplemented the festival's lighting rigs on some stages, with full EDM rigs for certain artists, and furnished full lighting rigs on other stages. Clearwing also worked with A.C.T Lighting to provide consoles throughout the festival and in A.C.T's popular Previs Suite.
"Multi-stage festivals always pose a number of challenges," said Steve Vallee, Clearwing's Production Manager. "This was the first year with moving lights on all the stages."
For this 50th anniversary year Summerfest glammed up the entrance to the grounds with a dozen Claypaky Super Sharpys positioned in four separate locations to light the architecture and environment. "They supplied searchlight-style effects," explained Ania Dankow, Operations and Logistics for Clearwing. "Extra eye candy for Summerfest's 50th."
More Super Sharpys were also scattered over the grounds where they received "nothing but positive comments," Vallee added.
The U.S. Cellular Connection Stage, which hosted primarily country and pop music, "stepped up a notch this year," said Dankow, with the addition of eight Claypaky Mythos2 beam fixtures and 10 Claypaky A.leda B-EYE K10s for general wash and effects. MA Lighting's dot2 XL-F console provided control as it did last year.
The Johnson Controls World Sound Stage featured a variety of genre-spanning artists. This year it moved from conventional fixtures to LED PARs and moving heads and added a dot2 XL-F for lighting control.
The newly-renovated Miller Lite Oasis Stage used 12 Claypaky Scenius spots, Sharpy Washes and a grandMA2 full-size console.
Clearwing also supplemented the house rig at the American Family Insurance Amphitheater with 24 Scenius Profiles, 12 Sharpys, eight B-EYE K20s, 12 Claypaky Stormy Strobes, six Robert Juliat Victor 1.8kw followspots plus a pair of grandMA2 full-size consoles.
"Sharpys are one of the best lamps on the market," said Vallee. "I love Sharpy's cool beamy quality and how it cuts through haze. Scenius Profiles were new for us this year, and they were great too."
A grandMA2 full-size console was deployed at the Harley-Davidson Roadhouse and grandMA2 light consoles were used at the Uline Warhouse, Briggs & Stratton Big Backyard and BMO Harris Pavilion.
Claypaky's Spheriscan revolutionary mirrored head scanner was available as part of the floor package for the first time. "We used them on the ground on side stages," continued Vallee, "but we hope to use them in a ground role next year. Spheriscan makes a big impact when a number of them are put together."
Six additional Robert Juliat Victor1.8kw followspots were spread around the grounds on various stages. "We got great comments about them," reported Vallee. "Designers were very happy to use them."
The Previs Suite grew in size and moved from a tent to a trailer this year.  It supplied grandMA2 full-size, grandMA2 light and an assortment of dot2 consoles for lighting designers who not only previsualised artists' Summerfest performances but also built files for upcoming tours while they were in the venue.
"There was a limited amount of time for each act to work on the stages and a lot of things to get done," explained Vallee, who detailed the Previs Suite and its availability in the tech pack he prepared for Summerfest participants. "Previs gave tour lighting designers a chance to see how their rig would look on the stage in the conditions of the lakefront.  Some who were part of the Emerging Artists Series got their first exposure to moving lights and the dot2 platform this year, so the Previs Suite was essential for them." Halfway through the 11-day Summerfest the Previs Suite had hosted 30 visitors.
"A.C.T Lighting was on site providing support for the consoles during the run of Summerfest," said Dankow. "Their technicians were very helpful in the teaching process."
A.C.T Lighting is the exclusive distributor of MA Lighting, Claypaky, Robert Juliat and MDG brands in North America.