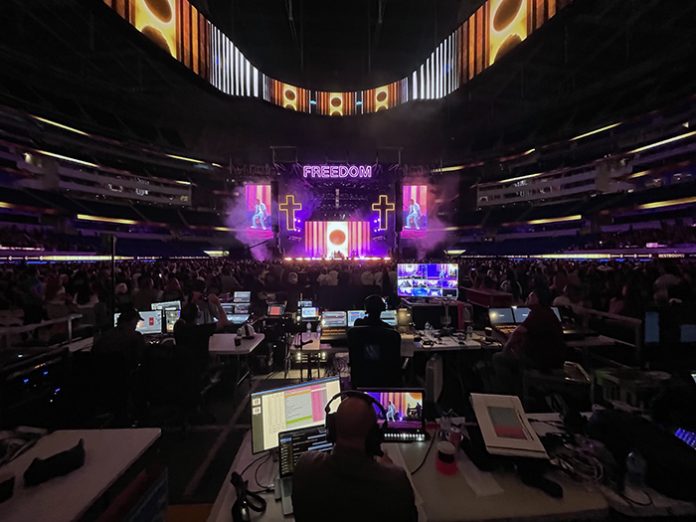 1DayLA's The Freedom Experience – which was hosted at SoFi Stadium and aired on YouTube, where 20,000 volunteers gathered to organise and support free medical clinics, back-to-school events and city beautification projects, among others – featured a star-studded line-up, with performances from Justin Bieber, Tori Kelly, Chandler Moore, Chance the Rapper, Jaden Smith, and Kari Jobe.
4Wall Entertainment provided lighting, video and rigging, including Brompton Technology 4K Tessera SX40 LED processors and ROE Visual LED panels. "That weekend was just unbelievable for the 4Wall team, and we were so thrilled to provide our service coast-to-coast at The Freedom Experience in Inglewood and Rolling Loud Miami, as well as at the Latitude Festival in the UK," said 4Wall Account Executive/Video Production, Wayne Romanowski.
ROE LED screens adorned the stage powered by Brompton LED processing, ensuring  image quality. In addition, disguise media servers, Sony camera flypacks, engineering, switching, and recorders were also used.
The centre screen comprised 168 flown ROE Carbon CB5 LED panels in airframes, measuring 24ft wide by 7ft high, driven by a Brompton Tessera SX40 processor with three Tessera XD 10G data distribution units keeping cable runs to a minimum. 4Wall opted for 2496 by 1456 screen resolution, with the feed for the screen coming from a disguise media server.
The two IMAG screens flanking the stage were each 8ft by 8ft ROE Carbon CB8 flown in T4 frames. "The screens were driven by a single Tessera SX40 processor and each screen received its own Tessera XD box. The processor was fed directly from Video Engineering," explained Romanowski.
With Brompton's Tessera processors a part of their product roster for a number of years, it is no surprise the 4Wall team chooses the industry's 'gold standard' for high-profile events such as The Freedom Experience.
"We use Brompton processors for several flagship LED lines in our inventory, including ROE Visual and Absen products," continued Romanowski. "Their reliability, ease of use, Tessera software professional controls, durability and flexibility in system design make Brompton the ideal choice for demanding productions that require the highest image quality."
With non-stop energy and a plethora of inspiring performances, heightened by beautiful visuals on massive LED screens, the event proved a triumph, pleasing both audience and client. "Our client was happy with the results as was the show designer, Patrick Dierson of The Activity," added Romanowski.
"The use of fibre and XD units was extremely beneficial to simplify both long cable homeruns and the internal cabling of the individual screens. It was just a very smooth process all the way through, which we have come to expect from our tried and tested Brompton Tessera processors. They always deliver cutting-edge visuals and bring efficiency to our internal workflow," concluded Romanowski.
"We had a 15-strong crew from 4Wall for the event, including our video director Anthony Pagano and LED crew chief RJ Thomas among the other hard-working team members. There was a lot of prep work done ahead of the event, however, seeing it all come to fruition was nothing short of exhilarating. We hope that it sets the precedent for similar future gatherings and that the 4Wall team is once again part of such a phenomenal experience!"