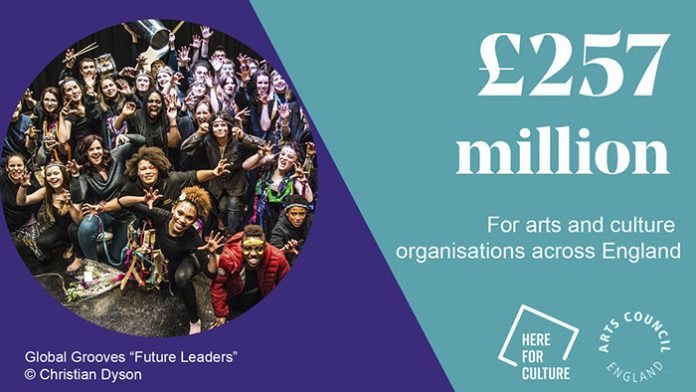 Earlier today, organisations that applied for grants under £1m as part of the first round of the Culture Recovery Fund were met with news about their awards, which were distributed on behalf of the UK Government's Department for Digital, Culture, Media and Sport.
The allocation is the biggest portion of funding distributed to date from the Culture Recovery Fund, bringing the total amount of grant funding awarded so far to more than £360m. 
NEWS: We're #HereForCulture and investing £257 million in theatres, venues, museums and cultural organisations across England in the latest round of @dcms & @hmtreasury's £1.57bn #CultureRecoveryFund.
More info: https://t.co/1Qvvb7DkDC pic.twitter.com/cL4tNg7pRv

— Arts Council England (@ace_national) October 12, 2020
The fund will help save 1,385 theatres, galleries, performance groups, arts organisations and cultural venues that either have national, local significance following the challenges posed by the COVID-19 pandemic.
The funds will boost organisations and venues like the London Symphony Orchestra, the Bristol Old Vic Theatre and Liverpool's Cavern Club, as well as hundreds of smaller organisations, such as the 50-seat Finborough Theatre in Earl's Court, Beamish Living Museum in County Durham, the Northcott Theatre in Exeter and the Yorkshire Sculpture Park in Wakefield.
Culture Secretary Oliver Dowden commented: "The government is here for culture and we have worked around the clock to get this funding to arts organisations. It will give many of our wonderful theatres, museums, art groups and cultural venues a helping hand to get them back on their feet. This money will get to work right across the country to save these places and protect jobs and hundreds of millions pounds is on the way for cultural organisations of all sizes that still need our help."
Sir Nicholas Serota, Chair, Arts Council England, added: "Theatres, museums, galleries, dance companies and music venues bring joy to people and life to our cities, towns and villages. This is a difficult time for us all, but this first round of funding from the Culture Recovery Fund will help sustain hundreds of cultural spaces and organisations that are loved and admired by local communities and international audiences. Further funding will be announced later in the month and we are working hard to support creative organisations and individuals during these challenging times."
Today the Cultural Recovery Fund awards its first round of funding to 1,385 organisations.

Spanning theatre, dance, music and more the awarded amount is over £250million.

This will help protect the arts and save jobs. See the full list: https://t.co/uxfMsCsISC #HereForCulture pic.twitter.com/veLDs1F59p

— Rishi Sunak (@RishiSunak) October 12, 2020
Download data on the organisations awarded funding as part of the Culture Recovery Fund here.