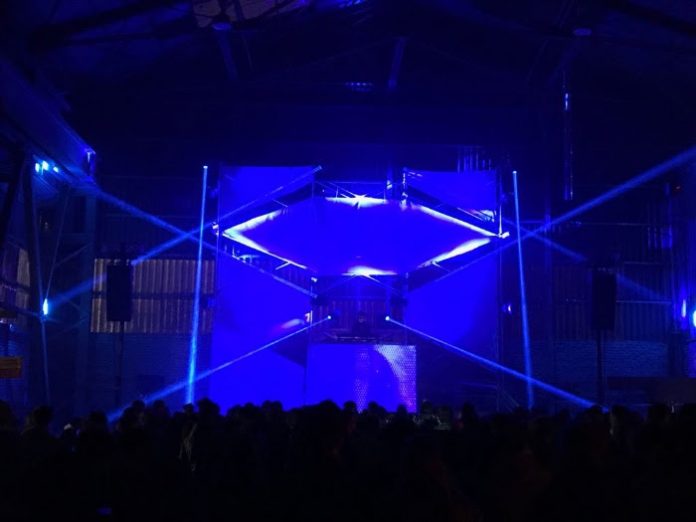 Every year, the future graduates of the French school of architecture of Tournai organise the JNDA (Journée et Nuit de l'Architecture), an event that gathers over 4,000 visitors. A disused industrial site is specially transformed to host conferences as well as artistic and cultural performances.
At dusk, the venue becomes a concert hall with 3 stages, where renowned and emerging bands entertain the crowds until late.
For this 34th edition, the event took up residence in the former 7,000sqm Louis Carton industrial workshop. In order to cater to an eclectic crowd, 3 stages – each dedicated to specific music genres – were set up in the three workshop warehouses: EDM, Urban and Alternative.
For the technical side, the organisers trusted YES Event to manage the audio set up of all 3 stages. The event service provider turned to French manufacturer of professional loudspeakers APG to offer the best possible experience to a 4,000+ crowd.
"Choosing the Uniline Compact was a no-brainer for us, as we were looking for a discreet but powerful sound system to fit the raw environment of this old industrial workshop" commented Frédéric Van Durmen, CEO of YES Event.
"Thanks to its compact size and excellent modularity, the Uniline was the perfect fit for both the venue and the eclectic line-up."
The main stage for the event was dedicated to EDM. YES Event deployed a full Uniline Compact sound system made of 12x UC206N rigged loudspeakers coupled with 4x UC206W for the front-fill.
Completing the set up were 6x UC115B dedicated bass speakers and six SB118 infra-bass subs, along with 2x APG SMX15 onstage monitors. Sound amplification was made possible thanks to 4x SA30 and 1x DMS48 amplifiers from APG.
A total of 4 UCTRUSS rigging accessories were used to create the UC speaker cluster, bringing high precision and long-range coverage, while another four UCSTACKs secured the sound system on the floor.
The second stage (Urban stage) was equipped with 4x SMX15 speakers, the only ones in the market offering five options for angulation, as well as 4x high power low-frequency TB118S subs and two SMX15 for the onstage monitors. Here, a rack made of 2x SA30 amplifiers and 1x DMS26 was specified.
For the Alternative stage, YES Event opted for 8x UC206N loudspeakers in a line array configuration, 2x UC206W for the front-fill, 4x dedicated UC115B bass speakers and 4 SB118s subs. Onstage monitoring was ensured thanks to 8x DX12 coaxial speakers. Amplification was handled by 4x APG Class D DA50:4 amplifiers.
Van Durmen concluded: "The Uniline Compact has met all our expectations by delivering the required sound pressure regardless of the music genre. Both the fans and the artists praised the sound quality, and commented on the impressive power produced by such a compact sound system!"