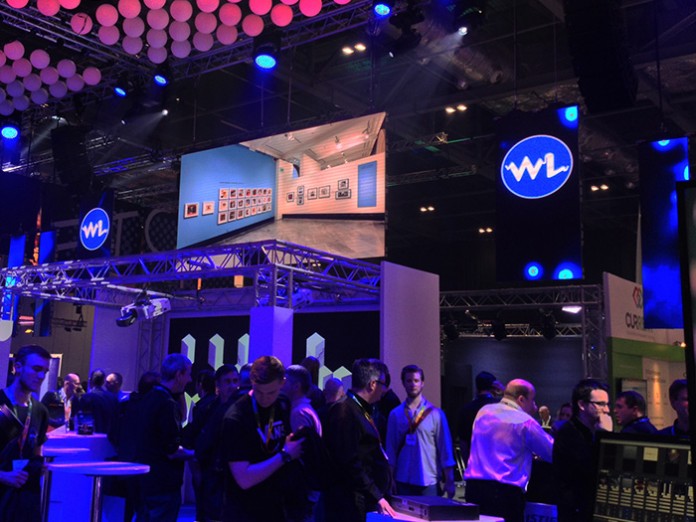 The technology showcase allowed attendees to discover the latest lighting products, speak to industry experts and experience hands-on demonstrations.
As the complete production solution specialist, White Light once again showcased its unparalleled range of products and expertise at the event.
Following an extremely successful PLASA Focus Glasgow in 2015, WL was delighted to return to the show this year. Peter Threadgold, WL's Customer Services Director, commented: "PLASA Focus provides a fantastic opportunity for us to showcase the extensive range of state-of-the-art products we have at WL.
"With so much exciting change happening within the company since we were last in Glasgow, we cannot wait to be able to share this with those attending the show."
WL displayed more than 20 products, the majority of which are WL-exclusive manufacturers. One of these included the CORE Lighting StripPoint Wireless Batten. The lightweight lithium battery-powered one metre LED batten utilises Wireless DMX control and features 18 pixel-mapped LEDs. It is rated for outdoor use (IP65), has an extremely bright 4000 lumen output for lighting walls and can create visual effects for low-resolution screens.
Another piece of lighting on display was the JB Lighting Sparx 10. Equipped with 37 RGBW multichip LEDs, its uniquely designed lenses can create stunning special effects. Ideal for the display of countless patterns, it exhibits a round light aperture, minimal struts between the lenses and a fully illuminate lighting field.
Along with this revolutionary lighting technology, WL also showcased a series of consoles and servers. This included the LSC Lighting Mantra LITE, which combines the ease of use of a fader-based console, with the power of a touch-screen graphical user interface.
Also on display was Interactive Technologies' CueServer2 Pro. Encompassing 32 universes of DMX, a built-in web server and an event-based scripting language, the CueServer 2 Pro is the most powerful and adaptable model to date.
PLASA Focus Glasgow also saw a brand-new product being displayed by WL – ImageCue. ImageCue is a compact, easy-to-use image server that provides complete control of high definition still images and videos with only twelve channels of DMX512. With a 1GB RAM memory, images and videos can be selected and displayed in less than a quarter of a second and full dimming control is provided for the output. This revolutionary product was also the LDI 2015 PLASA Member's Choice Award Winner.
Threadgold added, "Ultimately, this year's PLASA Focus Glasgow will allow us to display the very latest technology which simply isn't available anywhere else. Not only that but it gives us the opportunity to both speak to clients we've worked with for many years now and develop new relationships with potential customers."