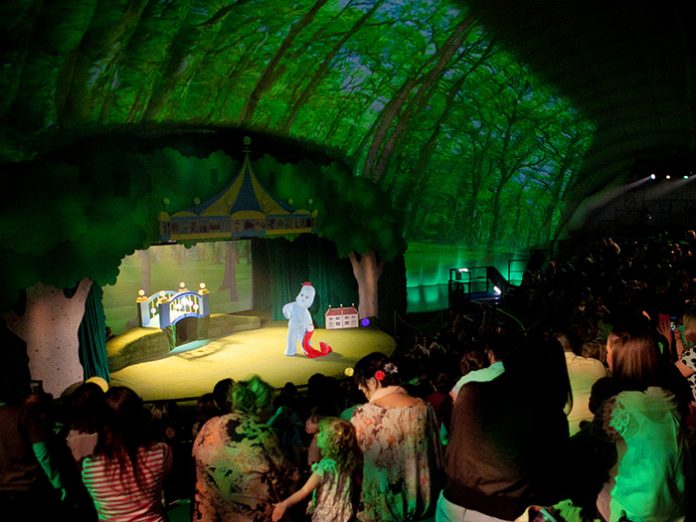 London-based company White Light has provided lighting and power equipment for the touring children's show In The Night Garden Live.
Based on the hugely popular BBC children's television series, In The Night Garden Live takes place in a purpose-built show dome, with full-size costumes and panoramic projections on display. The show is currently visiting various sites across the UK.
Production Electrician Andrew Fidgeon commented: "In The Night Garden Live is a very unique show. Not only are there four performances a day but every show takes place in a purpose-built show dome, which has to be inflated on site in every city we, visit.
"Due to the space in which the show is performed, we obviously couldn't hang anything off the rafters as there weren't any! Rather we had to use self-supporting trusses which were rigged around the set and seating bank itself. Similarly, the dome gets extremely hot so we had to ensure we steered more towards LED fixtures as opposed to tungsten."
The lighting used includes Martin by Harman MAC 2000 Performances, Martin by Harman Rush PAR 2's, Philips Vari-Lite VL1000 Tungsten, Coemar LED ParLites, an Avolites ART 2000, various LED battens, ETC Source Fours and CCT Minuette Fresnels.
Fidgeon added: "It was vital for a show like this to draw on equipment that could not only be used on four shows a day but be suitable for that non-traditional space. Prior to the show's first run in London, we came down to White Light for four days prep where we could try out the different set-ups and ensure that we chose the perfect rig".
Along with providing the lighting for the actual show, White Light also supplied the lighting for the FOH, hospitality areas, back stage, wardrobe, site office and green room, along with all on-site power distribution.
In The Night Garden Live opened on 26 May and will run until 21 August.