Before the lockdown of live events following the COVID-19 pandemic, Jennifer Grace Rhodes was a fresh-faced freelancer specialising in live sound. Her fiancé, Rob Priddle, a veteran of the touring industry having spent 20 years as a freelance audio engineer, was working full-time as a Project Manager until he was made redundant. Together for almost five years, the couple now face their biggest challenge to date – financial uncertainty with a young family to feed and no government support.
Rhodes shared her story with TPi: "Rob ignited my passion for live events," she began. "You can't help but get dragged into this industry when you have a partner who works away for the majority of the year… and the more I got involved, the more I fell in love with its idiosyncrasies."
A couple of years ago, the couple sat down and decided to brainstorm a pathway for Rhodes to gain professional qualifications in audio engineering. "I enrolled on an intensive course at SSR (now Spirit Studios), specialising in audio and PA for the live events industry, which I passed with a distinction in March last year."
Previously an accomplished Kitchen Planner for John Lewis, following her graduation, Rhodes handed in her notice to embark on her first year as a freelancer. "I did a lot of free work for around eight months, doing anything in audio. With Rob working in the industry, I was able to get directly involved with stadium tours," she said, sharing her experience, which includes dual roles as PA Tech with Krept and Konan at Ally Pally and the O2 Arena, London with Stormzy, as well as several tour dates with Labyrinth and drive-in shows with Noah Cyrus.
From there, Rhodes began to branch out as a freelancer, earning paid work in December, and then, with a few months of work under her belt, the crisis struck. "It was frustrating because I had a full year of events planned on my calendar, including Bradford Literature Festival, who told me not to come in following my first day due to the pandemic, and everything from March onwards died overnight."
Visibly distraught having given up a career, pension, her entire life for the industry, Rhodes explained: "I'd visited a project manager at Capital Sound who wanted to take me on for a few shows before the crisis, and I felt as though I was making good strides as a freelancer, and then all of a sudden that was it," she underlined. "Game over."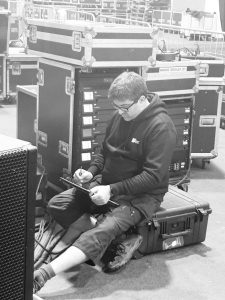 With an 18-year-old, a 10-year-old and a five-year-old, and a fiancé on furlough under one roof until the foreseeable future – it became apparent that Rhodes would have to find work elsewhere. "It's been challenging because my work finished first, while Rob began assisting staff transition to a WFH setup before being furloughed and later made redundant."
With the influence of family members who worked for the NHS – an organisation crying out for assistance – it seemed like a guaranteed area of employment for Rhodes. "I applied for more than 80 jobs, and I managed to get one interview, which landed me a job as a ward clerk in Rochdale Infirmary, which just so happened to be on a clinical assessment unit with COVID-19 patients," she said. "We are a red ward, which means we have a lot of COVID-19 patients, who we look after – some successfully, and some not so successfully. Death has been quite a large part of my life in lockdown."
A series of unfortunate events followed. On 5 May, the young family contracted COVID-19. "We had a positive test and Rob suffers from asthma, so while I recovered from the horrendous symptoms in 10 days, it took him a lot longer to get back on his feet – and we have experienced related infections ever since."
Thankfully, as an NHS employee, Rhodes was able to check if he was an ICU candidate if his condition had worsened. "I was able to receive invaluable information of recovery from those on the frontline, which a lot of people don't have access to, so I was grateful to keep him out of the hospital," she explained. "We had an antibody test, which informed us that we both have positive antibodies, so we donated our plasma."
Asked whether their advanced industry knowledge was a blessing or a curse during this incredibly difficult time, Rhodes explained: "We understand what each other is going through as well as our strengths and weaknesses."
After similar life experiences on the road, indicative of the forgotten events industry, the duo adopt a pragmatic approach to proceedings. "We've got plan A, B, C, and D. We are in regular contact with our local MP and we, like most of the industry, have been lobbying on social media. Simply put, we're doing everything we can."
Other than the furlough scheme, which was to end imminently after speaking to TPi, the family were not entitled to any further support from the UK government. "I'm only in my first year as a freelancer so I'm not entitled to anything at all because I didn't have any 18/19 books, which is why I had to get a job outside of the industry fairly quickly because I couldn't afford to lose any more of my income," she said. "I've only got a 12-month contract, so I'm hoping to go back to live events when, and if, they return to normality in 2021. I doubt there will be any work booked in until March, at the very earliest. I'm keeping my head down, hoping and praying, like everybody else in our industry."
Rhodes pointed out the myriad events professionals turned supermarket delivery drivers in the wake of the COVID-19 pandemic. "It's about trying to keep your head above water – most of us are doing that. As a freelancer, that risk is always there, but never in a million years would you believe it was going to come to fruition," she conceded. "Even those with permanent contracts, such as Rob, have been affected. Not everybody is completely protected. While the furlough scheme has helped, it hasn't paid all the money we receive, but it's something – which has now ended, with thousands of technically skilled workers now made redundant."
Fundamentally, Rhodes and the events industry are calling for support to the manufacturing supply chain. "The supplier end is where the buck stops. The freelancers work there, and they supply the theatres and events – that's where we need the support," she explained. "Rob's former firm alone supplies for 10 million people annually. They're a big player in the industry, and that's where the money needs to go – not investment in buildings but people as well, and that's where the UK government has really missed the boat."
Despite the UK government's largest investment in the arts, there is a clear disconnect between cultural establishments and institutions and those on the ground floor – the people who make events a reality. "Mass gatherings were stopped immediately, and freelancers have lost a year's worth of work overnight. We were the first industry to stop and we will be the last to return. We are weathering the storm ourselves by working outside the industry, which is the hardest bit," she concluded. "There are an estimated 300,000 freelancers who are incredibly skilled at their jobs, who are now working elsewhere and there might be nothing there to plug that gap when events return tenfold."
This article originally appeared in issue #253 of TPi, which you can read here.
---
If you are currently experiencing financial hardship as a result of the COVID-19 pandemic, discover what support you are entitled to courtesy of The PSA Welfare & Benevolent Fund, which was founded on behalf of people working in the UK entertainment production industry. In genuine cases of hardship, the Fund may provide small grants for emergency relief when an injury or illness prevents working or forces an unplanned change of career. The fund also offers support towards re-training, which may be advisable as a result of accident or illness. Find out more on p.68