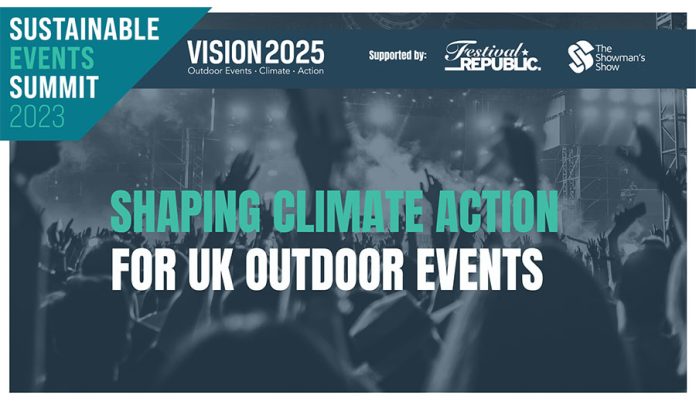 Vision 2025, supported by The Showman's Show and Festival Republic, continues to shape climate action for the UK outdoor event industry by bringing event organisers, suppliers, climate organisations and green leaders together. 
The free-to-attend conference is open for registration, with limited capacity. SES 23 is made possible by the support of a range of speakers and event partners: Arena Group, Events Industry Forum, GL Events, LS Events, Pearce Hire, T&L Marquees and Sunbelt Rentals. SES23 takes place on Newbury Showground within the Showman's Show
John Rostron, Chair of the Association of Independent Festivals commented: "We have seen some very encouraging engagement in sustainable practices and positive progress with festival organisers reducing their carbon impact this summer. I'm delighted to be sharing some of those experiences and learnings at SES23 and I'm looking forward to hearing from many of the sectors' leading innovators to drive future improvements."
The afternoon open to all panel sessions runs from 13:00-17:00, starting proceedings AT 13:15 PM with Unpacking Food Sustainability with NCASS, Climate justice: Making sustainability accessible at events at 14:05 PM, Getting the message Across at 14:30 PM, and an exclusive launch of the Environmental Chapter of the Purple Guide at 15:15 PM.
To break up the panels is the Green supplier and Innovation Award at 15:30, and then back into panels with Powerful Thinking presents: Rethinking Battery Deployments at 15:55 PM and to finish, at 16:20 PM is the Best of the Summer: Green Success Stories.
The afternoon will finish with the customary networking drinks, so that delegates can discuss their days learning, with refreshments provided by Purity Brewing Co. and ArrowTown.