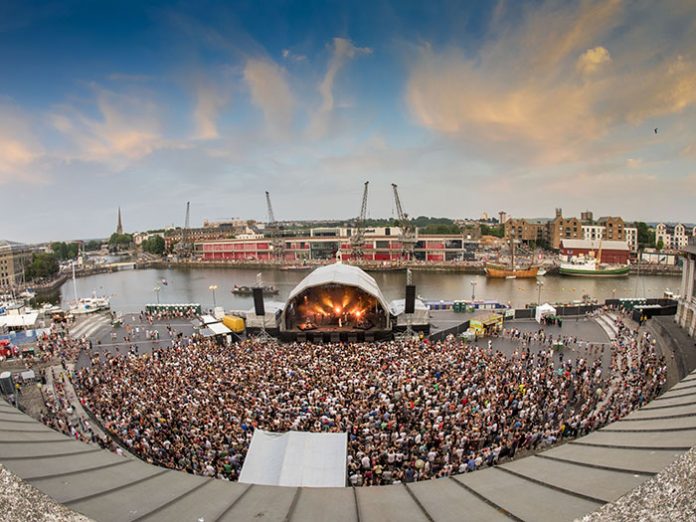 Utopium supplied a range of lighting, rigging, staging and screens to create an electric atmosphere in Bristol's Lloyds Amphitheatre for two consecutive weekends in July this year.
Utopium was entrusted to create the perfect setting for thousands of music lovers when Bristol Sounds (21-24 June) and Grillstock (1-2 July), headed to Bristol's iconic Harbourside. Both weekends welcomed some impressive music performances from the likes of Bonobo, Craig David and The Manic Street Preachers at Bristol Sounds and Pharcyde, The Darkness and Hot 8 Brass Band at Grillstock. With different stages in different positions and an eclectic variety of genres on offer over the course of the two events, Utopium had to be creative and astute when creating their base concert lighting systems for each event.
For Bristol Sounds, the company utilised a range of new equipment which included Martin Sceptron VDO 10 LED 1M video battens, an Avolites Pearl Tiger Touch 2 and a Hippotizer Amba. Along with new kit, Utopium also supplied Q-7 LED Flood/Blinder/Strobes, Martin Mac Quantum LED Profiles, Martin Mac Aura XB LED Washs, Chauvet Rogue RH1 Hybrids and four Lite Molefays. Utopium did the main stage rigging in the form of 9M and 6M lighting trusses and 9M drapes truss and 10M video wall truss all flown using Prolyft Double braked hoists.
To control the lighting Utopium used an Artnet networking system, an Avolites ART 2000 Dimmer, Distros and a Wyswyg system to enable touring LD's to pre-program their lighting designs. It also provided a floor package for Bonobo which consisted of six lighting towers which incorporated Chauvet Rogue RH1 Hybrids, Chauvet Q-Wash 419z LED washes, Chauvet Rogue FX-Bs, 4 Lite Molefays and 2 Lite Molefays. The team designed and delivered architectural lighting to illuminate the Lloyds Amphitheatre building with colour changing uplighters.
To create the perfect atmosphere at Grillstock, Utopium kitted out not just the main stage, but also the King of the Grill stage, Weber's demo stand and the main bar, as well as providing festoon lighting across the site. For the main stage, the team provided a flown lighting system and floor package which included Martin Mac Aura XB LED Washs, Martin Mac Quantum LED Profiles, Chauvet Rogue RH1 Hybrids, SGM Q-7 LED Flood/Blinder/Strobes, four Lite Molefays and LED Starcloth to dress the back of the stage.
In addition, they engaged with Production AV to supply event screens and cameras, including a 6.4M x 3.4M video wall for the main stage, cameras for the relay of images to the screen, studio channels for use at the front-of-house and on stage, full HD Camcorders for use as locked off shots on stage, a full HD PPU with all the control hardware and a Vision mixer operator to control the mix and direct the cameras. For the Weber stall, the team supplied two plasma screens with a camera and operator.
Utopium's Jon Newman commented: "Being a Bristol based company it's great to be involved in two brilliant events on our home soil, which are both two great dates in the summer festival calendar. These shows were the perfect opportunity to put our new products to great use, enabling us to offer increased creativity to the incoming lighting designers, and impressive light-shows to the thousands of music lovers who attended."