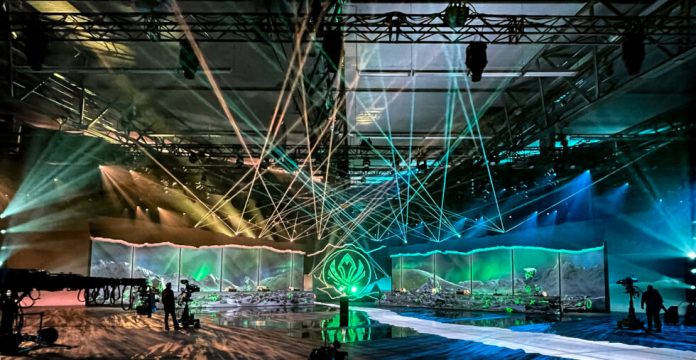 Luminex products were used by TSL Lighting to support the lighting data distribution system and network backbone for League of Legends' Mid Season Invitational (MSI) 2021.
League of Legends, hosted by Riot Games, is one of the world's largest esports championships with a peak viewership of 3.8m in 2020. Since 2015, League of Legends has a spinoff, the MSI, which is now the second most important international League of Legends tournament. With an event of this scale, having a network that can backup with 100% redundancy is crucial.
TSL Lighting Director, Dominic Sheerman, said: "TSL Lighting has been using Luminex products for many years now. When we were deciding to invest in control equipment, we realised that we needed products that would be versatile and reliable, and there is no doubt that Luminex ticked all the boxes."
Luminex CEO, Bart Swinnen added: "Luminex always aims to provide AVL professionals with the latest technology and give them the confidence of a reliable network backbone system. We are very happy that TSL Lighting has recognized this and has used our products to support MSI 2021!"
This year's MSI took place in Iceland from 6 to 23 May. TSL Lighting has been supporting the Riot Games team and lighting designer Mat Stovall from LampedUp for many years. For this year's League of Legends MSI, TSL Lighting used: 372 sACN universes from Touchdesigner, 50 ArtNet universes from Touchdesigner to the GrandMA for color mapping the fixtures in the rig, 51 ArtNet universes from the GrandMA to the LumiNode's and 1 ArtNet universe from Ventuz (graphics and in game triggers to the GrandMA).
For the hardware they utilised 15 GigaCore 16XT, seven LumiNode 12 and 51 LumiSplit 2.10 with seven MA Lighting grandMA NPUs, three MA3 full size lighting consoles and a grandMA3 Lite, in addition to grandMA onPC. For extra redundancy, LumiSplits were used in the backup mode with input A being fed by the LumiNodes and input B being fed by the MA NPUs.