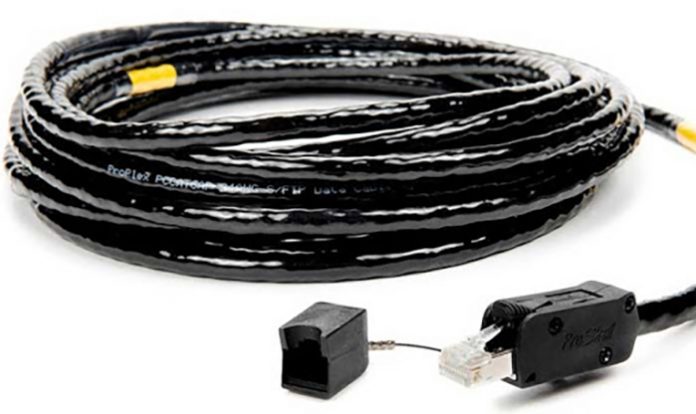 In an industry where stakes are high, failure cannot be tolerated, and technical performance must be flawless, TMB ProPlex is becoming one of the default standard for portable network cabling.
Now, engineers and technicians in a variety of other fields are recognising the unique capabilities and many benefits of ProPlex Ethernet cables. These rugged, reliable portable cables handle easily and can be deployed and re-coiled daily for many years. They provide the assurance of unsurpassed data transmission integrity, even after years of heavy use, indoors and outdoors.
"Anywhere high quality, reliable portable network cabling is required; from portable testing and exploration to research, from communications systems to automation control, aerospace, municipal and military applications, proven ProPlex Ethernet cables deliver your critical data without worry. When your reputation and livelihood are on the line, trust the best," noted TMB's Colin Waters.
Unlike solid and bonded conductor Ethernet cables, ProPlex's Kevlar reinforced, stranded conductor design provides flexibility with a very low risk of mechanical failure. The proven performance advantages of ProPlex Ethernet cables are clear: Flawless data transmission with minimal signal degradation, class-leading noise protection, extremely low skew, reduced DC resistance and attenuation, improved N.E.X.T. (near-end crosstalk loss), high tensile strength, cut and tear-resistant outer jacket, and much more.
The flagship of the range – ProPlex CAT6a Extended – is an easy handling, super durable S/FTP cable that, uniquely in a stranded cable, delivers fully verified 10 Gigabit performance, up to a remarkable full 100m.
Other models include S/FTP ProPlex CAT5e Ultra and ProPlex CAT6a, an SF/UTP 26AWG CAT5e and a UTP CAT5e. These cables offer all the ProPlex advantages; durability, easy handling, and the highest quality verified electronic specifications.
ProPlex CAT6a is also available in a dual cable "figure 8" configuration. ProPlex CAT5e Ultra is also available in dual figure 8, and quad "snake" configurations. In addition to raw cable, all ProPlex Ethernet cables are available from TMB fully assembled and tested, to customer specifications, with a wide range of common connectors. Also unique from TMB are patented ProShells®; a heavy duty backshell strain relief and latch protector, with optional protective cap, for standard RJ45 connectors.