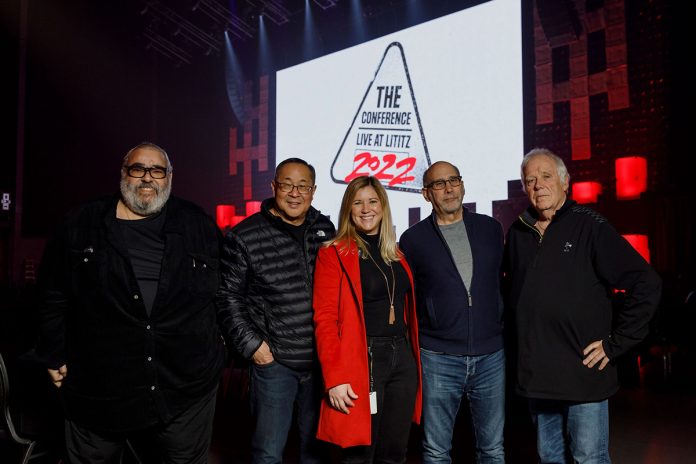 After a sold-out launch in 2022, THE Conference: Live at Lititz will return to the Rock Lititz campus from 6, 7, and 8 December 2023. In partnership with the Rock Lititz Community, CJMS (Charlie Hernandez, Jake Berry, Marty Hom, and Stuart Ross) will continue the work of collaboration, growth, and mentorship at the second annual conference.
Tickets will go on sale 11 April 2023 on the conference website. THE Conference team recommends that you save your spot early – ticket prices will increase starting on 15 October.
The inaugural 2022 conference featured over 620 attendees, 30 sponsors and vendors, and 70 diverse speakers. With interactive panels, targeted meetups, town halls, interactive workshops, product demonstrations, company tours, and themed social events each night, the event was described by multiple attendees as "a homecoming for the live-event industry."
After a successful launch in 2022, THE Conference: Live at Lititz is excited to welcome more attendees to Rock Lititz for the 2023 conference. Available tickets will increase to 800 with a focus on adding more new, unique perspectives to these important conversations. Join us in December to see why 96% of attendees said they would recommend this event.
Registration for this event is brought to you by our All-Access Sponsor, Private Jet Services. PJS has a decades-long reputation for providing aviation services to some of the world's top bands. The company is dedicated to the innovation and future of the live touring industry. From strategically planning a 180-day worldwide tour to dispatching aircraft for one-time events, PJS delivers customised aviation solutions for every client. For more information: www.pjsgroup.com
THE Conference: Live at Lititz is a conference series for live-event and touring professionals at all stages of their career. If you would like more information about the conference, please call Emily Cassidy at 717.333.3550 or email info@theconferencelive.com