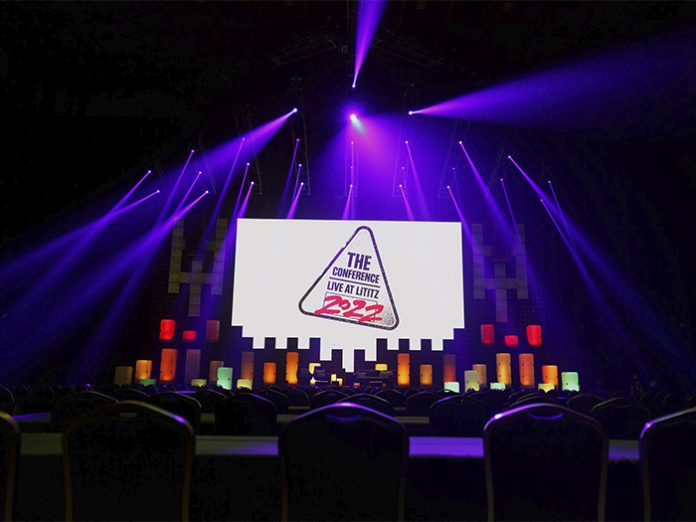 After a successful launch in 2022, THE Conference: Live at Lititz will return 6, 7, and 8 December 2023.  In partnership with the Rock Lititz Community, CJMS (Charlie Hernandez, Jake Berry, Marty Hom, and Stuart Ross) will continue the work of collaboration, growth, and mentorship at the second annual conference. 
The inaugural 2022 conference featured over 620 attendees, 30 sponsors and vendors, and 70 diverse speakers. With interactive panels, targeted meetups, town halls, interactive workshops, product demonstrations, company tours, and themed social events each night, the event was described by multiple attendees as "a homecoming for the live-event industry."
Jake Berry commented: "THE Conference: Live at Lititz is not about shying away from tough conversations; it is about meeting them head-on, as a team, with a plan. We were energised by everyone, from speakers to attendees, who were willing to engage on challenges facing our industry including sustainability, mental health, labor and workforce development, and diversity. We plan to dive deeper as we develop our content and learn from everyone who comes to our conference."
Realising the appetite for deep conversation, dynamic content, and connection, THE Conference: Live at Lititz is excited to welcome more attendees to Rock Lititz for the 2023 conference. Available tickets will increase to 800 with a focus on adding more new, unique perspectives to these important conversations. Save the date to see why 96% of attendees said they would recommend this event! 
"The people are what made this conference special. Everyone who volunteered, built, produced, sponsored, spoke, and attended were all a key part of creating an event where everyone had a seat at the table. Our industry is full of brilliant, talented individuals who are only strengthened by learning from each other and sharing experiences. We are honored to have the opportunity to welcome back old friends and meet new ones at our 2023 conference," added Stuart Ross. 
Tickets will go on sale to the public in April 2023. Stay tuned for more details on THE Conference: Live at Lititz website and social media channels. 
THE Conference: Live at Lititz is a conference series for live-music industry professionals at all stages of their career. 
'Leave it better than we found it' – THE Conference: Live at Lititz
If you would like more information about the conference, please call Emily Cassidy at 717.333.3550 or email info@theconferencelive.com.