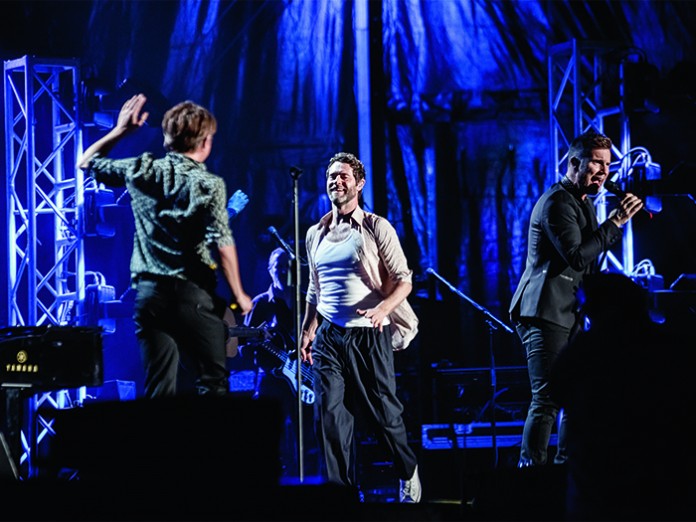 Hot on the heels of a successful European tour, record-breaking pop band Take That jetted to the UAE for two exclusive shows. The larger of the two, held at the Dubai Media City amphitheatre, required both inventory and expertise from a number of local suppliers. TPMEA's Ste Durham visited the site.
On a busy weekend in the UAE, legendary British 'man-band' Take That treated thousands of fans to an adapted version of their III Tour at Dubai Media City Amphitheatre. With tickets to the intimate performance at Hard Rock Cafe, Dubai Festival City the following day hard to come by, this was a golden opportunity for many to see the group perform for the first time.
Despite Take That's hard-earned pedigree on home soil, this made the evening something of a grandstand performance, and one that called on some of the region's biggest players to ensure its success.
Director of local audio supplier Delta Sound, Al Woods, was no stranger to Take That after touring with them in Europe and was more than happy to reacquaint himself with the band when the call came. He explained: "I was involved with Take That when they reformed and took the role as PA System Designer and Crew Chief. I've toured with them since then, apart from on their last tour, so it was a natural progression that Delta here in Dubai would look after the audio – if I had anything to do with it at least!"
SERVING THE AUDIENCE
The PA was made up of L-Acoustics. It included 24 K1 loudspeakers, 12 K1 subwoofers, 24 SB28 sub speakers, 18 KARA loudspeakers, 24 K2 loudspeakers, four K2 downfills per side and 12 LA-RAKs, each consisting of three LA8 amplifiers. For local control, the crew used a Meyer Sound Galileo 616 and 616 AES.
Woods and his team knew the venue well, which minimised audio challenges and allowed them to focus on facilitating the best show possible. He said: "The priority of Sound Engineer Gary Bradshaw and his team is to produce an amazing sounding show for every audience member – it is part of the whole experience."
Woods was keen to highlight the "strong allegiance" Delta Sound has with L-Acoustics, for which it is a major stockist and distributor, adding that his team receive "amazing support" from the company. Although it is also a stockist and distributor of DiGiCo equipment, the tour brought along its own road-tested FOH and monitor package. According to Chris Fitch, Director of Skan PA, the decision to freight over the same gear used in Europe boiled down to one word: consistency.
Skan PA provided two DiGiCo SD7 consoles, one at FOH and one at monitors, with two SD-racks in an optical loop. The company also supplied eight Sennheiser SR2050 IEM transmitters, four Sennhesier EM3732-II receivers, eight SKM5200-II handheld microphones with 5235 heads, and a full compliment of d&b audiotechnik D80 amplifiers with M4 wedges.
Fitch explained: "The market in the Middle East tends to be fly dates rather than touring by road. From what our touring personnel have said, the local vendors are good and can cater for artists' needs."
LET THERE BE LIGHT
For lighting and video, the Take That team called on industry heavyweights PRG Gearhouse, strengthening its close relationship with local promoters, Done Events. While the profile of the act made the event a 'must have' for all of the suppliers in town, PRG's extensive resources meant they could meet Take That's rider line-for-line.
Head of Lighting for PRG Gearhouse, Damien Jackson said: "I have put a couple of rigs in this venue, most recently the Blended festival in May of this year. It's a great venue for concerts. The stage sits in the bottom of the bowl so it offers great viewing sightlines all over for the punters."
The lighting rig, which was led by Lighting Designer Tim Routledge's rider, consisted of 46 Aryton MagicBlade-R luminaires, 32 Ayrton MagicPanels, 11 Philips Vari-Lite 3000 spots, 56 Clay Paky Mythos, 10 Clay Paky Stormys, 12 Clay Paky Stormy Washes, 12 Clay Paky Sharpy Washes, and 18 4-Lite molefays. This was controlled with an MA Lighting grandMA2 full size console, a lighting control rack and three MA NPUs.
The upstage LED wall was a 5.4 metre by 9 metre portrait wall made from 135 panels of ROE MC-7T Blackface, while two screens of 6.24 metre by 3.6 metre Martin EC10 served as IMAG. A five camera PPU system and a pair of d3 Technologies media servers completed the video rig.
PPRG Gearhouse had a number of lighting and video crew on site to ensure a seamless delivery.
MULTI-TASKING
The main stage at the Dubai Media City Amphitheatre, nicknamed the 'Tarantula', was a steel roof manufactured by Stageco as a specially produced piece, owned by All Events Services (AES).
Managing Director of AES, JJ Trichardt, said: "The massive challenge given by us to Stageco Germany was to come up with a design that was very modular, clean-looking, and adaptable. This included allowing for a maximum overall size of 43 metres wide by 21 metres deep."
He continued: "Many A-list artists use Stageco products, so the band felt right at home on our stage here in the UAE. Agents and bands know what they are getting and what to expect from this product and this makes life very easy for them, the local production, and the promoters.
"We are very thankful for all of the support we've received in the Middle East, and we feel very blessed through the amount of projects that we now have under our belt. At AES we strive to create lasting relationships rather than make one-off acquaintances. We always listen to our clients first, and then act.
PRG Gearhouse's Jackson was also quick to sing the praises of the stage provided by AES. He said: "The Stageco roof structure put in place for this show made our lives a lot more comfortable, and a decent-sized loading dock made our load-in and load-out easy. There was huge wing space to accommodate backline world, dimmer world and enough space to store spares without it being cluttered."
In addition to the stage, AES supplied a 20-strong crew for the three-day build that included four certified riggers from Stageco and AES, a site manager / safety officer, a project manager, a supervisor, and a certified first aider.
"During this very busy time of the year, discipline and delivering on time is essential, as is satisfying the stakeholders that paved the way to where we are today," concluded Trichardt.
With the exception of the stage, all structural elements including cabins, toilets, VIP platforms, temporary bars, and entrance archways were provided and built by Al Laith.
The team of between 20 and 25 crew spent two weeks on site, rising to 60 towards the end, despite having a full schedule that weekend.
Warren Barlow, Head of Event Services for Al Laith, said: "We have to be careful in terms of scheduling because we can be running 20 sites simultaneously sometimes – and this job is a logistical challenge at the best of times. This weekend alone there are three other large-scale events going on besides Take That."
Despite this mammoth workload, Al Laith has made its name supplying events large and small, often in and around a city that poses its own challenges. Barlow explained: "On the main roads in Dubai you'll rarely see a truck as vehicle routes are restricted – certain times of the day even have truck bans. This makes transport lengthy sometimes, particularly if you have to find alternative routes. There is not as much margin for error and everything requires detailed planning. At the end of the day we still deliver the same results."
He continued: "We have a certain amount of in-house transport but if we catered for everything then we would have a hell of a lot of trucks sat idle during the summer!
"There are a lot of great vehicle rental companies, whose trucks can be on site within the hour. In a way, this is even better than having to move your own fleet around in a place like this."
KNOWLEDGE IS POWER
Although this was Take That's first performance in Dubai, the very same venue played host to a solo performance by primary songwriter and frontman Gary Barlow in October 2014. Having worked on that very show, Project Manager for eclipse, Michael Kennedy, knew what to expect when he was asked to supply power.
He explained: "I knew a number of the crew from previous projects and this was a great show to work on as the tour had full confidence in the power services provided. A very well organised tour, along with a great crew, made this a very easy project to deliver."
All show power at the venue has to brought in, so eclipse provided three diesel Aggreko 350Kva synchronised generators that ran to a primary distribution panel and were split to supply each discipline – lighting, video and audio.
Lighting had a 400Amp, 3phase supply, while video and audio each had a 200Amp 3phase supply. Due to the way that the venue is laid out, the generators were placed 120 metres away from the stage, necessitating 750 linear metres of 240mm single core cable to achieve the satisfactory results required by the local and touring technical elements.
Kennedy commented: "The trend of festival style venues on this site is a very complex thing to manage. This site can quite easily take over five km of cable to supply power to all of the different vendors."
The company is keen to focus on H&S, ensuring that all equipment is fully PAT tested for electrical safety before each and every job.
Kennedy added: "As we strive to stay ahead of the standards relating to the power supply to temporary events I have constant eye on the best products to buy to keep the power department at the leading front of temporary power solutions. I am confident if there were to be a mechanical failure there is always enough power on site to accommodate.
"The meticulous selection and planning of cable sizes and routes is something that myself and all of the power team have a vast knowledge of. This is one of the most important things to get right from the onset. Also the utilisation of the most up to date safety devices inside our event ready distribution panels helps us to eliminate any kind of unwanted power outages."
BOOTS ON THE GROUND
While the event could not have happened without this formidable group of suppliers, the crew supplied by Showforce played a vital role. The company sent eight crewmembers and a crew supervisor to carry out all of the work required to prepare the site, which included stage set-up, barrier fixing and the unloading of equipment where necessary.
A second Showforce team worked solely on production and included a crew manager and 15 crewmembers split between day and night shifts. Working in tandem with Done Events' production team, they were responsible for unloading and installing lighting, sound and video equipment.
Gemma Charity, Showforce's Group General Manager, said: "Done Events is renowned for delivering top notch performances from huge artists here in the Middle East. We were able to provide them with experienced crew with the skillsets that they required. Everyone involved worked to incredibly tight schedules and we're proud to have played our part in its success."
As well as being involved with coordinating Showforce staff for the event, the self-confessed Take That superfan also attended both of the group's Dubai shows in order to stand on the other side of the barriers.
She added: "As a fan I thought it was brilliant. I've been to all of their tours in the UK that have amazing special effects and production values but, to be honest, it was lovely to see them up on stage, just singing their songs to a great crowd. On the night the band themselves commented on how refreshing it was to be free up there and not have to worry about hitting marks or changing costumes. They seemed to really enjoy it and we certainly did!"
Photos: Done Events