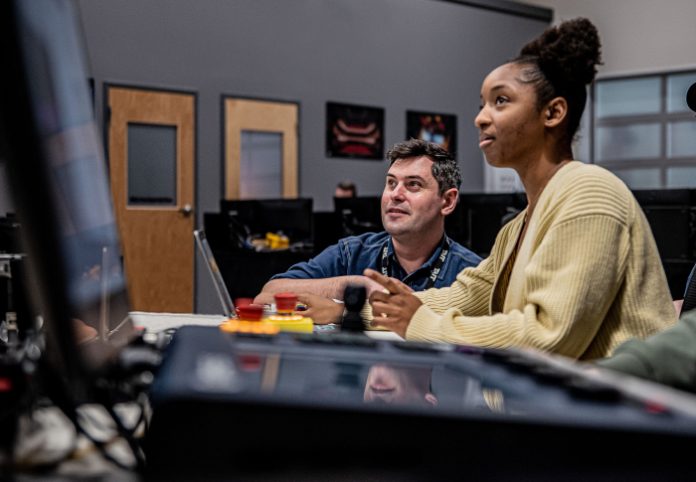 At Prolight+Sound 2023, TAIT will invite attendees to explore the world of opportunities for live experience automation technologies, as TAIT showcases Kinesys products for automation.
Namely, its 2500kg capacity variable-speed chain hoist. Thisl hoist offers 200mm/s movement, and the capability of slowing all the way down to 0mm/s, which means that it can perform smooth motion at any intermediate speed. The hoist is accompanied by a new 7.5kW variant of the Kinesys Pulse Drive, incorporating the TAIT Navigator Infinity Panel.
TAIT has a long history of creating bespoke products for prestigious live events and entertainment installations around the world, and has many decades experience integrating products into projects.
Also on display will be the epiQ console with live demonstration of the seamless integration with Kinesys variable-speed chain hoists. Visitors to the stand are invited to meet the TAIT Training team, who have announced a suite of new in-person and online courses, available globally.
Dave Weatherhead, President of Technology, TAIT commented: "Kinesys is well known for versatile, dependable touring equipment for automation. Our increasing range of products bring the best of TAIT's and Kinesys' control and integration technology, engineering and manufacturing together, to meet the market needs for high quality machinery and controls. 
Megan Reiplinger, Global Head of Customer Training, TAIT, said: "We know that it is important for automation professionals to have convenient access to specific training to meet their needs
on each step of their learning journey. Therefore, we are delighted to offer a collection of
new courses for 2023 on iQ, available via our online portal. These self-paced online courses provide the necessary foundations for joining the hands-on training, which is available in our dedicated hardware-equipped facilities in the USA and UK. For those new to the industry, or migrating from another technical field, we have also provided an "Introduction to Automation" course."