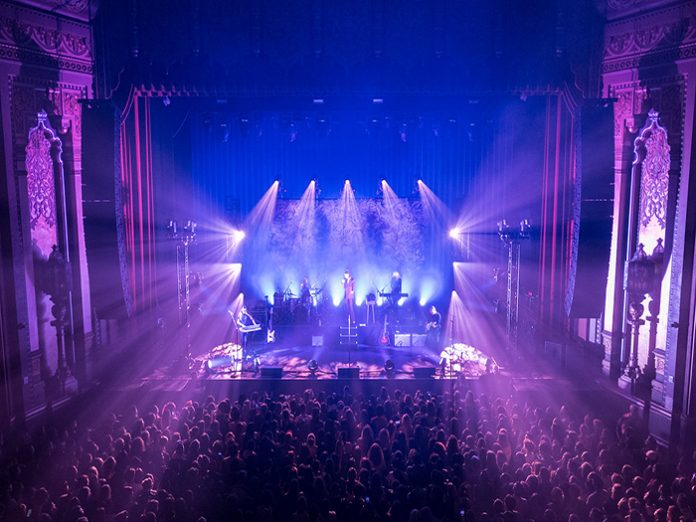 LD Matthieu Larivee relished the chance to work with American singer / songwriter Børns on his current Blue Madonna tour, which sees the interesting young star receiving plenty of attention and acclaim, with 15 Robe MegaPointes at the heart of the lighting design.
The founder and artistic director of Lüz Studio in Montreal also designed set and lighting for Børns' first tour, Dopamine, having received a call after his management saw and heard good things about his creativity for indie rockers, Broken Bells.
A total of 15 Robe MegaPointes are central to the entire stage design. "They are bright, compact, and incredibly versatile, the projection is perfect, they can make excellent patterns, frost and animation effects, 3D gobo animations, beam shapes, and the speed is incredible. Going from a super-tight to a massively wide beam with a prism is simple and hugely effective. They are an excellent luminaire."
Larivee opted for Robe MegaPointes after seeing a demo a few months previously, after which he knew it was the 'ideal' fixture for this show. "The quality of light is great, no hot-spots… lovely smooth fades – it's been extremely well designed."
The Robe MegaPointes – provided by lighting vendor Upstaging – are the only profile fixtures on the rig and are prominent throughout the set; with 4 rigged on the downstage truss and used for projection onto the leaves – including a custom gobo designed especially for the tour – with 5 on the upstage truss for back-lighting and effects, and 4 on the sides.
Larivee has used Robe products in his work for some time including BMFLs, which he also loves, and these together with Robe Spiiders, Pointes and PATT 2013s appear regularly on his lighting plots.
He thinks Robe is in a good place right now, producing fixtures with excellent quality of light with flexible and useful features. Strong quality light sources with precision like BMFLs are good for the big shows – he especially likes Robe BMFL Wash with its beam shaper which is equally good for rock 'n' roll and TV.
The biggest challenge of the Blue Madonna tour so far has been adjusting and scaling the show set up day to day, but he – his own harshest critic – Børns and the management team are all very happy with the results.
The lighting – which includes other fixtures for side and rear illumination and units on the floor beaming onto the backdrop and the artist – are controlled via a grandMA2 console which was programmed by Matthieu and Jean-Sebastien Guilmette and operated on the road by lighting director Mason Ford.