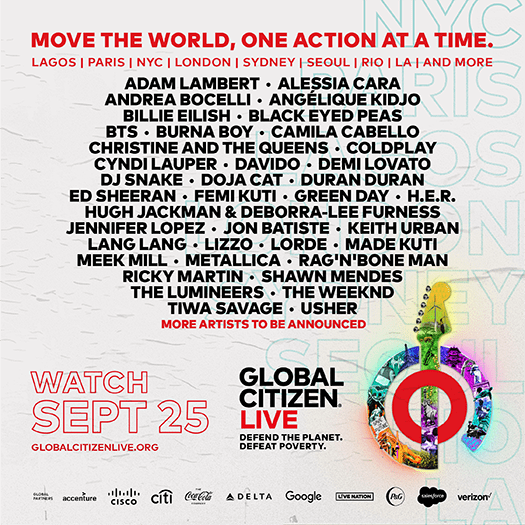 Stufish will assume the role of stage designers for the international advocacy organisation Global Citizen's Global Citizen Live – a 24 hour live broadcast with events and performances filmed across six continents to unite the world to defend the planet and defeat poverty.
Taking place on Saturday 25 September 2021, and airing air on ABC, BBC, Fx, iHeartRadio, YouTube, Twitter, and more, Global Citizen Live will feature the world's biggest artists taking the stage to help rally citizens in demanding that governments, major corporations, and philanthropists work together by focusing on the most urgent, interrelated threats hitting those in poverty the hardest – climate change, vaccine equity, and famine. Famed for their pop/rock spectaculars such as Beyonce + Jay-Z's 'OTR II' tour and The Rolling Stones 'No Filter' tour, STUFISH have been named as the stage designers for the Global Citizen events in New York City, Paris and Lagos.
The once-in-a-generation 24-hour Global Citizen Live is part of an ongoing campaign to defend the planet and defeat poverty, powered by citizens around the world who are taking action and urging governments, corporations, and philanthropists to make change.
Artists performances confirmed for Global Citizen Live 2021 include Adam Lambert, Alessia Cara, Andrea Bocelli, Angélique Kidjo, Billie Eilish, Black Eyed Peas, BTS, Burna Boy, Camila Cabello, Christine and the Queens, Coldplay, Cyndi Lauper, Davido, Demi Lovato, Doja Cat, DJ Snake, Duran Duran, Ed Sheeran, Femi Kuti, Green Day, H.E.R., Hugh Jackman & Deborra-lee Furness, Jennifer Lopez, Jon Batiste, Keith Urban, Lang Lang, Lizzo, Lorde, The Lumineers, Made Kuti, Meek Mill, Metallica, Rag'n'Bone Man, Ricky Martin, Shawn Mendes, Tiwa Savage, The Weeknd, Usher and more to be announced.
Ric Lipson, Partner at STUFISH says: "STUFISH Entertainment Architects are honored to continue to work with Global Citizen and to be part of this very special concert. At STUFISH we believe urgent action is required to help protect our planet and to help those suffering from poverty, which is why it was important to us to take part in this incredible event and celebrate the amazing work of Global Citizen."