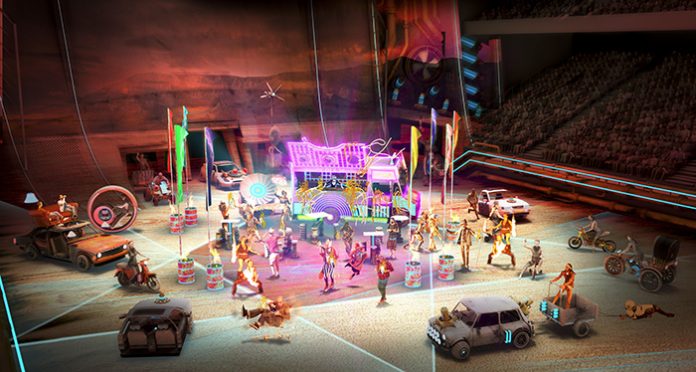 Stufish has teamed up with Melco Resorts & Entertainment, to deliver the world's first action-packed, all-electric, indoor theatrical vehicle stunt show called Elēkron, in Studio City Macau.
Elēkron is set to rock and electrify from 14 December 2018 to 31 March 2019. The new show follows a stellar year for Stufish Entertainment Architects, who have accounted for some of the world's biggest music tours, including Beyoncé + JAY-Z's OTR II, Queen + Adam Lambert, Elton John's Farewell Yellow Brick Road and U2's eXPERIENCE + iNNOCENCE.
Bold, jaw-dropping, heart-stopping stunts will light up the arena in a 75-minute show of non-stop death-defying action that will keep spectators on the edge of their seats. Elēkron features more than 70 powerful electric vehicles – including sports cars, customized buggies, quads, trial bikes, FMX bikes and even a biplane – all engaged in a succession of daredevil feats that take place at close range to the audience.
Powered by the latest electric technology, all the vehicles are bespoke and designed from scratch, and are powered by Tesla motors with a custom-designed control system. More than 150 cast, crew, creative specialists, designers and technicians – including Guinness World Record holders – have been handpicked for the show from nine countries around the globe.
Frederic Winckler, Executive Vice President, Chief Marketing and Brand Officer of Melco Resorts & Entertainment said: "Powered entirely by electricity, Elēkron is a crazy, death-defying stunt show like nothing you have ever seen before.  The arena is filled with fireworks and pyrotechnics.  Seventy wild post-apocalyptic cars, bikes and buggies are leaping over each other, as their drivers fight over the abandoned power station where the story's set."
Ray Winkler, CEO and Design Director of Stufish Entertainment Architects added: "We are thrilled to combine Stufish's powerful entertainment background with Melco's impressive track record of delivering world-class shows to create the perfect storm that will electrify the audience with our exhilarating new show Elēkron."
Founded by the late Mark Fisher, Stufish is the recognised leader in permanent, touring and temporary entertainment architecture. The Stufish name has been synonymous with key musical touring shows, including the likes Rolling Stones, Madonna, Lady Gaga, Robbie Williams and many more. Stufish's latest production in Macau is part of their wider expansion into the Asian market, which also includes the recent opening of their Hong Kong office.