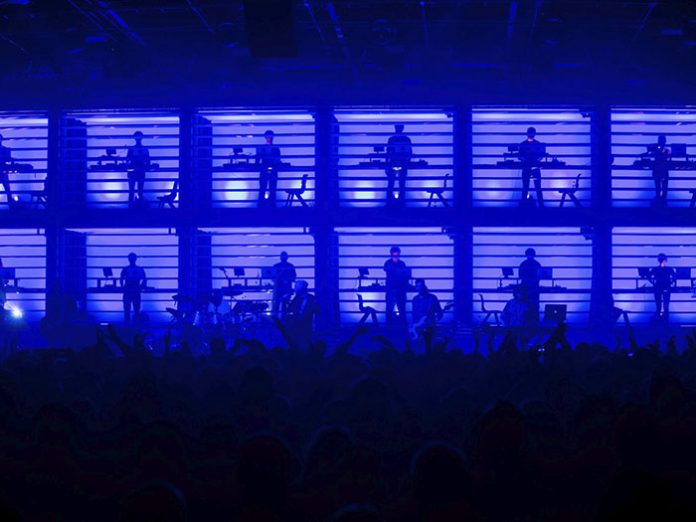 Stages and bespoke temporary structures Star Events provided a performance wall for a 12-piece synthesiser ensemble and a standard 1.2m high forestage for New Order's opening of Manchester International Festival (MIF).
Playing at Old Granada Studios, home to Joy Division's first televised performance, on Tony Wilson's So It Goes programme, and a nascent New Order three years later, Star Events helped develop the supporting structure for artist Liam Gillick's responsive stage designs. The company's pods, stacked six on six, sat behind custom mechanical louvres, which served as a screen for visuals, flickering open to reveal 12 dancing synth players.
Largely dispensing with the hits, New Order chose to embellish a 'setlist of surprises', from Joy Division's Disorder to Plastic off 2015 LP Music Complete. The first of five New Order performances at MIF, the songs, the context and the artistry of the production won five star reviews across the board.
Jack Thompson, Manchester International Festival's Technical Director, commented: "These shows pushed the boundaries of art, production and infrastructure, a fantastic start to the festival. Working with suppliers like Star Events, rife with ingenuity and experience, makes all the difference."
Pete Holdich, Head of Structures at Star Events, said: "In order to maximise floor space, we built our structure around the studio's air handling ducts, which worked really well. Jack put a top team together, led by David Lawrence, and it's great to be involved with such a prestigious event in my home city."