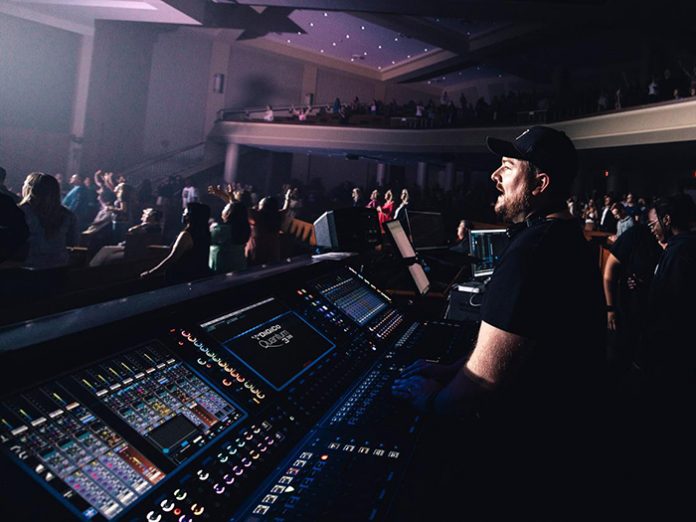 Kicking off in Pittsburgh on 15 April and coming to a close in Brandon, Mississippi on 18 June, The Blessing USA Tour takes six-time GMA Dove Award winner Kari Jobe and husband/partner Cody Carnes on a 24-city run of shows at large houses of worship and theatres across the Midwest and South, including Dallas, Orlando, Minneapolis, Atlanta, Houston – with a DiGiCo Quantum338 in tow.
Sponsored by illumiNations and CovidSafeChurch.com, the tour is implementing "socially distanced and/or reserved COVID-19 safe seating and capacities" in each venue, and tour members will be tested and everyone entering will be temperature checked, in addition to other standards and local requirements. What's also unique about this tour is how the DiGiCo Quantum338 console, operated by Production Manager, Brenton Miles and supplied by tour outfitters Spectrum Sound and IPS Live, is acting as the literal hub of every aspect of the tour's sound.
Miles is at the centre of that hub. He's mixing the show's front-of-house sound as well as the in-ear monitors for the entire band, as well as for a 10-person VIP group that can access the stage, band, artists and crew in each city before the show. These are mainly volunteers and staffers from local churches that Miles and other The Blessing USA crew-members will walk and talk through the tour's workflows and equipment.
The Quantum338 gets plenty of attention because those VIP attendees are on their own in-ears before and during the show on a completely separate mix within the Q338. "If a church's keyboard player is in the VIP group, our keyboard player will come out and to talk to them about their setup, or if they're a tracks person, we'll go through our tracks rig with them," he said. "They can have a Q&A with everyone."
Miles says he's using nearly all of the 56 channels on the DiGiCo SD-Rack, and everything is directly split, double-patched in the console, to avoid latency in the monitors.
"Everything also has its own section on the console surface, which is part of why I love this desk so much—the flexibility is incredible," he explained. "I have all my control groups in the centre, along with the 24×24 matrix that includes the 10 VIPs' mix; all of my front-of-house input channels on the left, and all of my ears on the right including 10 channels of RF onstage. Everything has its place and I know where everything is, which is critical for speed when you're wearing this many hats on a show. And that's important, because it's just me. I'm the only audio guy out there."
And there are even more hats: Miles is also taking in all of the inputs from the console to Pro Tools and Waves Tracks Live to record select shows, and audio for some promotional and sponsor videos before and during the show, also routed through the main PA.
"It's not just that I can route all of these audio sources, but also that I can manage them, too," he said, noting that none of the audio for the promo video goes into the stage or VIP in-ears even as it's playing through the PA systems in the house. But the VIPs are able to hear all the talk-backs on stage, the click, the guide tracks, and basically whatever the band hears onstage.
"The matrix on the console is amazing in what it lets me do, and that's important because the flow of our stage show is not locked to a grid. It can change on a dime; at any moment we can go to a different song," he said. "In fact, Kari and Cody both have Sennheiser talk-backs on their handhelds, so they can literally flip a switch and talk to the band on stage through the monitors. With the Quantum338, I can make the matrix do everything we need to make that kind of communication happen."
Miles says his introduction to the Quantum338 was at Spectrum Sound's Nashville shop, where he spent a day familiarising himself with it before tour rehearsals began, and where he discovered how it would impact his workflow positively. "The quickness of the layouts, the three 17-inch multitouch screens, the brightness of those screens—all of that helps you keep focus during a show," he said, also pointing out features like soft quick-select buttons displayed on each screen, and the 38 100mm touch-sensitive faders laid out in three blocks of 12 fader banks, plus two dedicated user-assignable faders, each with high resolution metering.
Then there is the new "Ultimate Stadius" 32-bit ADC and DAC conversion, which is built into the Quantum338 as standard, alongside six single or three redundant MADI connections, dual DMI slots, and a built-in UB MADI USB recording interface. "We do everything in stereo, and my channel count is nearly maxed out, but there's never a sense that you're working near the edge of the console," he said.
"Even the little things, like double-layered scribble strips on the channels, so you can read the entire label—those kinds of little but important touches really make a difference on a show. DiGiCo took a real big step forward with the Quantum338. And I really don't want to give it back to Spectrum when this tour's done," he laughed.