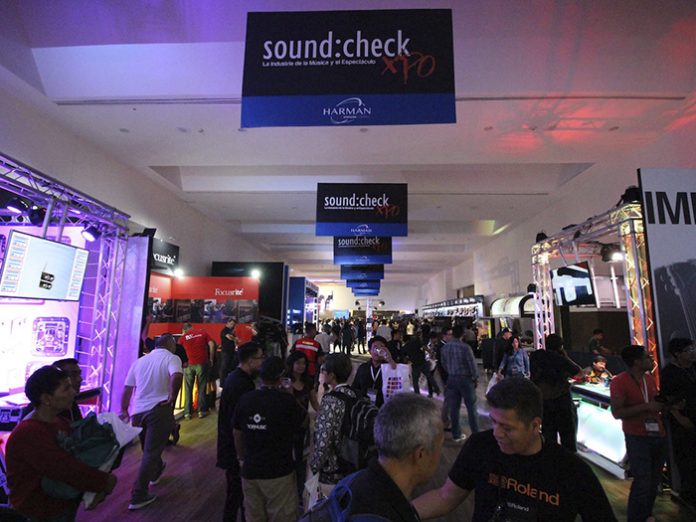 Sound:check Xpo will take place on April 28, 29 and 30 at the Mexico City's World Trade Center, with this year's event being the 17th edition.
Demo rooms will be the place for speciality equipment demonstrations and presentations with internationally trending technology.
By contrast, the Harman Auditorium will also be the stage for product presentations that can be heard and seen in full operation, accompanied by technical talks with outstanding industry professionals and activists.
The Auditorium will host three important music figures from Mexico and around the world who will give master:classes.
This year's master:classes we will be from Simon Phillips (drummer of Toto, Protocol, Mike Oldfield, The Who, Hiromi Trio Project, among many others), Mimi Fox (composer and guitarist with Stevie Wonder, Branford Marsalis and Diana Krall), and Camilo Lara (Instituto Mexicano del Sonido/Mexican Institute of Sound).
One of the most important alliances of sound:check Xpo over the years has been the collaboration with the Audio Engineering Society México (AES) in the making of the AES Annual Conference.
This year's show will feature the participation of audio professionals like Sergio Molho (Waters-Storyk Design Group); Jonathan Wyner (mastering engineer; Education Director and Izotope Chief Studio Engineer); Lenise Bent (engineer and producer of CDs like "Aja" by Steely Dan "Breakfast in America" by Supertramp and "Tusk" by Fleetwood Mac); Bruce C. Olson (Olson Sound Design founder); John La Grou (Millenia Media founder); Merlijn van Even (Meyer Sound Senior Technical Support and Education Specialist); Mark Frink (audio engineer of Suzanne Vega, Boston Pops Orchestra, Tony Bennet and KD Lang, among many others); Sergio Díaz (sound designer of the movie "Roma") and the AES global president, Nadja Wallaszkovits.
Moreover, as a new opportunity to share experiences, the "Tendencias" (Trends) section will host interesting talks about the projects of different professionals.