Before the temporary closure of live events spaces across the globe, Todmorden-based Tomas 'Tom' Soltau was working on a range of high-profile touring productions, primarily as a Lighting Technician – 12 miles down the road in Bury – Rick Carr was working a similar gig in the UK and the Middle East. However, once events were cancelled, the now-out-of-work duo found themselves lending their talents to stacking shelves and delivering essential goods for supermarket giants, Morrisons and Tesco.
Speaking to TPi the evening after a midnight shift at Tesco in Haslingden, Carr said: "I was doing a lot of work in Saudi Arabia and Dubai this year with Katy Perry, the Saudi Cup, and MDL Middle Beast as Dimmer Tech," he reminisced. "I was due to work on Peter Kay's Dance For Life and a range of festivals with Westlife and Little Mix for Lights Control Rigging."
The pair met through LCR and have collaborated on several projects. Soltau picked up the story: "I had two gigs cancel in the space of a few hours, and I began hearing rumours of further, widespread gig and event cancellations. I envisioned that there would be a mad rush of people to other jobs, so I figured that it was the best course of action to get my foot in the door first," he recalled. "Before I knew it, everything I had on my calendar had been cancelled and I started working at Morrisons in Todmorden, driving delivery vans and stacking shelves."
Carr, who also operates in corporate spheres, was working on Blue Peter when he overheard camera operators discussing event cancellations. "I approached Tesco in Haslingden on Saturday morning at 10.30am, completed the induction at 12pm, and worked the nightshift that very night," he laughed. 
"I was told by my supervisors that they, quite rightly, didn't want me to work too hard. I then informed them that I worked around 140 days without being home last year alone." With two decades of experience in the industry, collectively, the pair approached the task at hand with the same amount of professionalism required in the touring sector.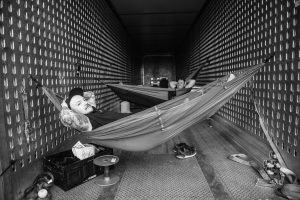 "If you can get on with other people, work is work. It's a means to an end as opposed to a passion or a career, and I think if you keep that mentality at the forefront of your mind, it makes it easier," Soltau explained. "Morrisons has opened its doors to anyone who has lost work. Last week alone they brought onboard 15 new members of staff, who all came from various walks of life."
Carr concurred: "I've met people from a range of industries; a stylist who runs her own business in Haslingden, dressmakers, dance teachers and a lot of people who worked for themselves. These are pragmatic people who want to be proactive and working, rather than being sat at home and worrying about their next payslip."
Soltau pointed out the "amazing" job that Morrisons was doing at taking health and safety measures so customers and staff are safe in store. "They are doing everything they can to make you feel safer," he commented.
According to Carr, all staff are provided with antibacterial hand gel and gloves – even if they are not in a customer-facing role. "Although I'm not in a customer-facing role, they abide by the rules set by the government." 
A Tesco spokesperson told TPi: "Our temporary colleagues continue to play a crucial role in our business, ensuring customers can get the food and essentials they need in store and through our home delivery service. We are very grateful to them, and to all our colleagues, for their continued contribution during this unprecedented time."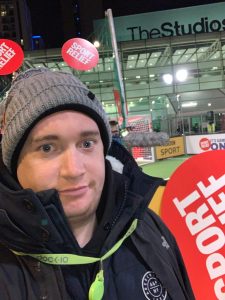 Carr also acknowledged the often-negative connotations associated with working outside of the events industry from peers. "I think some people feel ashamed and believe it'll damage them as a techie when we go back to work."
He pointed out the good work of an industry colleague, Aaron Buck, who has started a podcast called Aaron's Monitored World on the Ancroo Live network, to spread awareness of mental health in the touring industry during these uncertain times. "Listening to his podcast at night has got me through the uncertainty, because he says it like it is, from a touring perspective," he shared.
Keen to get the show back on the road, though realistic and aware of the essential measures enforced by the government to keep touring personnel and concertgoers safe, the duo were keeping occupied during their downtime, by spending time with family or tending to a beloved Cricket Club, in Carr's case. He quipped: "This is probably the longest time I've ever spent at home!"
Photos: Tomas 'Tom' Soltau and Rick Carr
---