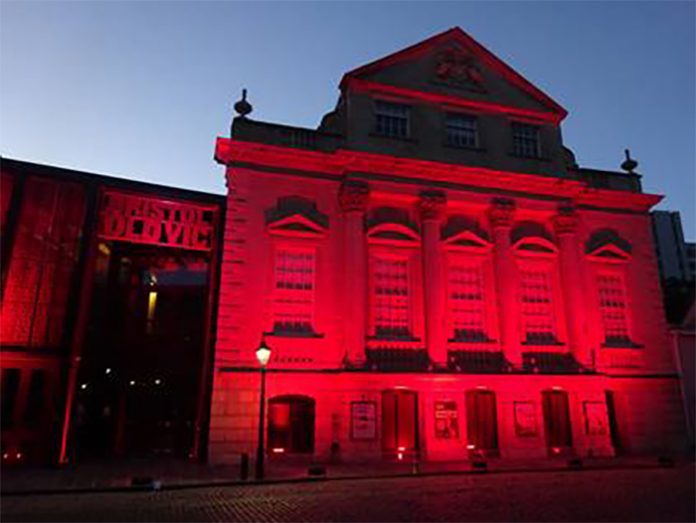 SLX has illuminated the Bristol Old Vic red as part of the #LightItInRed campaign, which aims to highlight the critical condition of the live events industry.
SLX Hire & Event's CEO, Alastair Currie, commented: "As a business who work with national broadcast corporations, to theatres, touring productions and event venues, we've not been exempt from the impact of lockdown. We have seen an industry that is our total passion and all about bringing people together – and is reported to be worth £39.1bn to the economy – devastated in order to keep us all safe. As lockdown eases, we are fortunate to still be in a position to be open (though at reduced staffing), operating and doing all we can to keep staff and customers safe in the process. However, many of our clients – such as event venues, production companies and theatre institutions – have been facing the reality that they may never open their doors again. Additionally, many highly skilled freelancers, who the whole live events industry relies on, have not received the level of government support needed and we risk losing those skills and talent for when live events become economically viable once again.
He added: "We welcome the recent announcement from the government, which will see £1.57bn made available to theatres, galleries, independent cinemas and the like. As ever with these things, the devil is in the detail and it will be vital that this money filters out beyond London and the West End and makes it to the counties and other cities, like Bristol. I hope this money will also find its way to institutions like Aerospace Bristol, the home of Concorde, which plays host to a multitude of important live and corporate events each year, making up a critical part of their revenue."
He concluded: "We fully support the #LightItInRed campaign and hope it will raise awareness of the vulnerability of this whole sector as well as highlighting the value, both economically and culturally, of keeping the events industry alive."
The #LightItInRed campaign saw more than 200 buildings and landmarks across the UK turned red on 6 July.