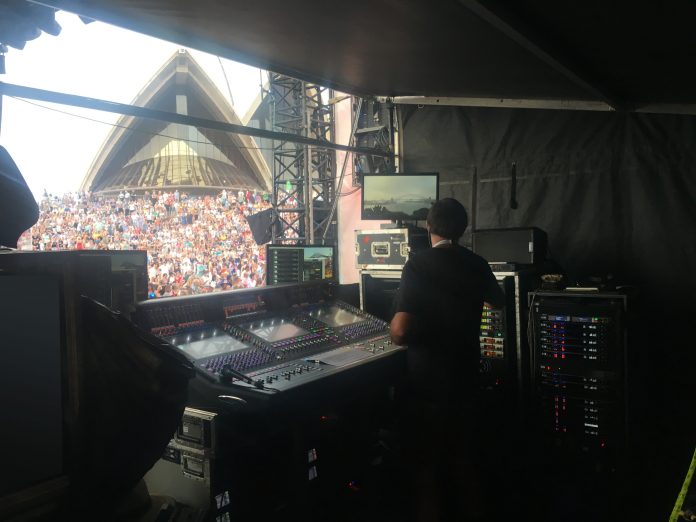 On January 26 2019, all around Warrane (Sydney Cove), solemnities, ceremonies, and performances took place to mark Australia Day. Starting off at 7:45 AM with a smoking ceremony at Walumil lawns, Barangaroo, a full programme of events was staged at multiple sites, including a citizenship ceremony at Tallawoladah (Campbell's Cove), the Governor General's speech from the deck of the HMAS Choules moored in Circular Quay, and culminated in the Australia Day Live Concert broadcast by the ABC from the Forecourt of the Sydney Opera House.
A massive production undertaking with incredibly demanding wireless channel counts, the celebrations ran flawlessly thanks to Shure Digital, superior frequency management, tight collaboration between production providers 8th Day Sound and Innovative Production Services, and Shure wireless experts from Jands.
Jands' Peter Twartz handled wireless spectrum management across all sites on the day, working out of the main event control room at Circular Quay's Overseas Passenger Terminal.
With a fibre network linking all stages, three Shure Axient AXT600 Spectrum Management units deployed around the cove, and Shure's Wireless Workbench software in his toolbox, Peter had total control and visibility of multiple wireless zones and dozens of devices from his laptop, no matter where he physically connected.
"With Wireless Workbench, I had everything in one master show file, so I could see where the potential intermodulation points were," explained Peter. "At this event, there were so many RF devices in coverage 'earshot' of each other, that having an overall plan and visibility of every system was of paramount importance. For example, at one point I was standing on the Opera House Forecourt stage with my laptop connected and showed a colleague a display of all the in-ear-monitor transmitters I could pick up. He said, 'Yep, looks good', and then I pointed out that they were all the in-ears from across the cove at Tallawoladah."
Active channels on the Opera House Forecourt comprised 12 Axient Digital AD4D dual channel receivers paired with 16 AD2 handhelds and 8 AD1 bodypacks, and eight PSM 1000 dual channel personal monitor transmitters paired with 24 of its matching beltpacks. Tallawoladah was running six Axient Digital AD4D dual channel receivers with eight AD2 handhelds and four AD1 bodypacks. First Fleet Park ran two stages equipped with Shure ULX-D wireless mics.
Jands is Australia's leading distributor of professional lighting, sound and staging equipment. As well as distributing the leading professional brand names throughout Australia the company manufactures lighting control equipment that is used and distributed throughout the world. Our theatre projects division provides products and installation services throughout the country and our extensive manufacturing and sheet metal facilities can meet the needs of the broadest range of technical requirements for the entertainment and audiovisual industries. The philosophy is simple Best Products, Best Solutions, JANDS.
HMAS Choules carried four Shure UR4D receivers paired with four UR2 handheld transmitters and four UR1 bodypacks. Finally, a PSM 1000 personal monitor transmitter and two belt packs ran out of the Overseas Passenger Terminal transmitting to a floating stage.
"The bottom line is, I could not have packed that many channels into the available spectrum with an analogue wireless system," said Peter. "Shure Digital's channel capacity is much greater than analogue, and it's much more immune to interference, especially with Shure's digital diversity technology. Shure Axient is a step beyond everything else available."
For the all-important live broadcast on the Opera House Forecourt, the hosts were fitted with Axient Digital ADX1 bodypack transmitters, whose ShowLink capabilities allow operators to monitor and control them remotely, including seamlessly changing level and frequency if necessary. Four channels of ADX ran with the receivers in Quadversity mode, receiving a signal from two separate pairs of antennas, from which Axient automatically selects the strongest signal. This allowed the presenters to roam between wireless zones, an almost impossible task with any other RF equipment.
"Shure's Axient Digital provided crystal clear audio in what is a very hostile RF environment," said Ian Cooper, a freelance sound engineer who mixed FOH PA for the Opera House Forecourt.
"Using a mixture of AD on stage and ADX on the hosts for redundancy ensured solid coverage as the hosts moved from the stage, through the audience, and along the Opera House steps."
"Shure Axient Digital is a huge sonic improvement over analogue," concurred Simon Farrell, Project Manager at 8th Day Sound. "We began using Axient Digital at the Opera House forecourt for Australia Day 2018 and after the great results increased our inventory to cover all our RF needs for the whole site in 2019. It's simply a better sound, and RF coordination is a lot easier."
"The Shure ULX-D we ran on the First Fleet Park stages didn't miss a beat," added Innovative Production Services', Luke Boyd. "We always use Shure because of the superior sound and reliability, and even in the midst of all of the RF channels around this huge event, the signal stayed robust and free of interference."