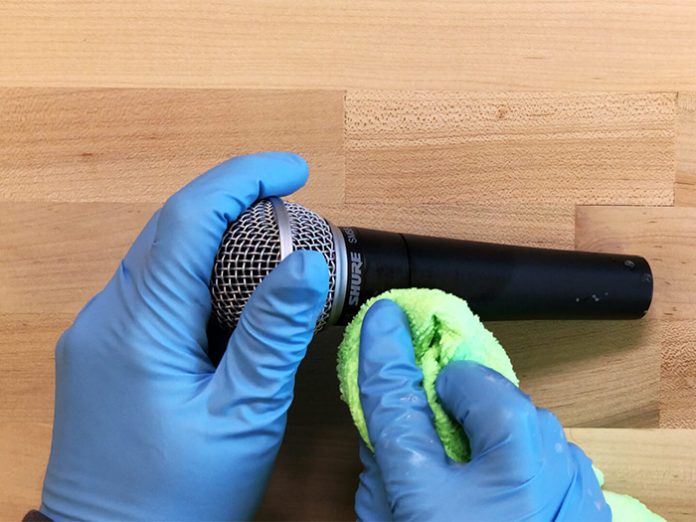 With the COVID-19 pandemic altering pre-existing audio capturing plans, increasing numbers of event organisers are searching for 'contactless' microphone solutions which no longer need to be worn or handled by individuals or groups. Amid the uncertainty, Shure has stepped forward as a company able to support the adaption to the 'new normal'.
Shure's array microphones have been relied upon for some of the biggest global events in recent years, from the Olympics to healthcare facilities and court rooms.
The advantages of using array microphone technology are even more essential today as it provides broadcast-quality sound captured inconspicuously and from a safe distance – whether that's overhead, underneath, or from the side. The technology provides the ability to provide steerable audio coverage for different room scenarios. The audio settings can be controlled remotely without the need for anyone to physically reposition the microphones to maximise coverage.
When tabletop microphones (press conferences), lav mics (broadcast), handheld mics (interviews, speeches) or other microphones (hospitals, court rooms) aren't feasible, Shure offers options of overhead, wall or table mounted array microphones with steerable coverage technology to provide broadcast-quality audio. The MXA910 array microphone, the MXA310 tabletop microphone and the new MXA710 linear array microphones are the leading products in this category.
"As the world shifts to more 'contactless' microphones, Shure has pioneered this technology for years," said Shure Senior Director of Global Integrated Systems Marketing, Chris Merrick. "Our array microphone technology has been trusted with some of the biggest brands and events worldwide. With increased demand for remotely controlling audio capture, the technology is here today for it to be done very efficiently."
In addition to the MXA910, Shure offers other array microphones for different needs. Recently, the company introduced the MXA710 linear array microphone. This new model is designed for high-quality audio capture in a variety of environments. Whether it's under or next to a wall-mounted display, suspended from the ceiling or flush mounted in a table, the low-profile form factor of the MXA710 subtly blends into any room aesthetic without sacrificing audio quality. It is an ideal alternative for spaces where the MXA910 or the MXA310 might not be the best option.
Patented Steerable Coverage technology with the MXA710 captures audio anywhere in the room, featuring four lobes with the two-foot array, and eight lobes with four-foot array.
Like the MXA910, with onboard IntelliMix DSP, the MXA710 provides Automatic Mixing, Acoustic Echo Cancellation, Noise Reduction, and Automatic Gain Control, providing all the processing needed for echo and noise-free audio, ensuring end users experience high-quality audio. Autofocus technology fine-tunes each lobe position in real-time, adjusting as people move around the room as they speak.