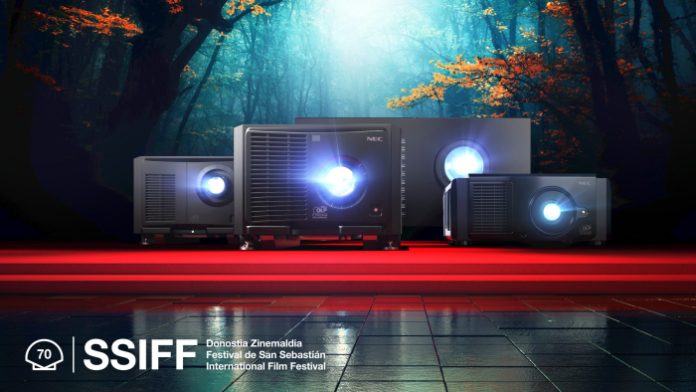 Sharp NEC Display Solutions Europe will be supporting the jubilee edition of the San Sebastián International Film Festival (SSIFF) taking place from 16 to 24 September 2022. As in previous years, Sharp/NEC will be collaborating with Kelonik. Together, the partners will provide a mesmerising cinema experience with the help of NEC laser projectors.
In its 70 years of existence, the SSIFF has achieved global renown and today is recognised by the International Federation of Film Producers' Associations (FIAPF) as a 'top category competitive film festival'. A popular section of this year's major releases as well as two of the Festival's most busy events – the film music concert given by the Basque National Orchestra and the broadcast of the closing gala – will be taking place in the Velodrome theatre.
"The Velodrome is one of our most important sections and will be a highlight attraction of the Festival's 70th edition", said José Luis Rebordinos, Director of the SSIFF.
On a 400 square metre screen, the 3,000 spectators at the Velodrome venue will be captivated by the performance of NEC NC3541L RB laser projectors, the first RB laser projector for premium and large format screens of up to 32 metres. The projector model offers full 4K resolution and wide colour space combined with a homogeneous and contrast-rich laser image quality, ensuring a very special experience for attendees at the Velodrome. With 35,000 lumen brightness, the technology is suitable for 2D and 3D image reproduction.
Operators will benefit from a low Total Cost of Ownership (TCO) due to the laser light source: in comparison to Xenon lamp based models, these projectors provide the highest possible reliability with maintenance-free operation, low power consumption and up to 50,000 hours lifecycle.
"We are proud to be able to support the San Sebastián International Film Festival as one of the finest events in the cinema industry once again," said Alain Chamaillard, Head of Cinema EMEA & CIS at Sharp NEC Display Solutions Europe. "Our NEC laser projectors are the ideal solution to mesmerise spectators with an amazing image quality."