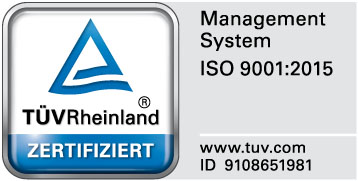 Schnick-Schnack-Systems was granted the certification according to ISO 9001:2015 in October 2018.
The Cologne-based company subjected all of its business units to the ISO 9001:2015 certification.
An external audit determined that the company met the requirements for certification, which was granted in October 2018.
Erhard Lehmann, Managing Director of Schnick-Schnack-Systems commented: "Schnick-Schnack-Systems produces quality products. In addition to numerous measures in production, we also decided more than a year ago, to design our processes in accordance with ISO 9001. We are proud that this has now been independently confirmed with the certificate."
Based on clearly defined processes – from new customer acquisition to project completion – Schnick-Schnack-Systems ensures within the framework of the management quality system that mistakes can be largely avoided and to fully satisfy customers.
The increased transparency of the operational processes promotes employee understanding and acceptance of living the concept of quality. The result of a functioning quality management system according to ISO 9001 is the enhancement of customer focus and loyalty as well as the ability to adapt quickly to changes in the market.
To ensure that ISO 9001:2015 certification is maintained, the QMS will be adjusted continuously as part of regular, internal audits and stringent monitoring of measures. A lasting focus on quality characteristics and standards is therefore guaranteed across all company-wide areas.
The ISO 9001:2015 is an industry-independent quality management system certification standard that is committed to tracking the development of compliant products and services. The ISO 9001 certification is based on a two-stage audit in which all areas affected by the standard are examined in detail.