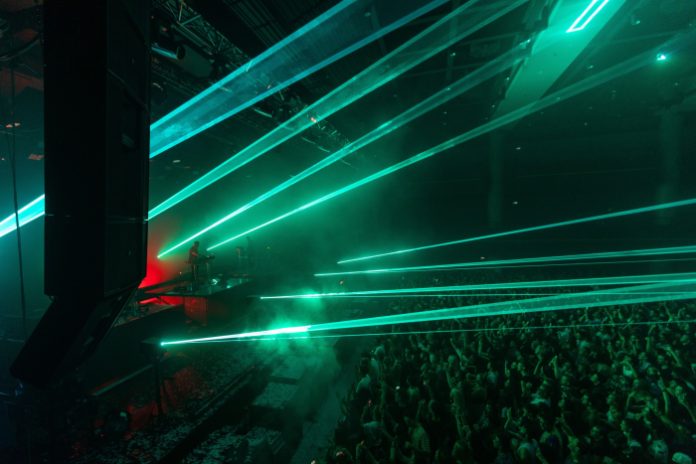 RÜFÜS DU SOL are currently in the midst of a world tour that has taken them throughout Europe before heading over to the US and terminating in Australia via New Zealand at the end of 2022. As part of their European tour, the trio recently played a sold-out gig in Prague at the 3,000-capacity Forum Karlin using KV2's flagship VHD5 system.
RÜFÜS DU SOL's relationship with KV2 began in earnest last year in early 2021 when KV2's technical support director for the APAC region, Angus Davidson – a highly respected FOH engineer in his own right – met Cam Trewin, a Melbourne-based studio and live sound engineer. 
"Cam had recorded a live set with RÜFÜS DU SOL at The Joshua Tree in the Mojave Desert which had been mixed in Dolby Atmos for the video in Los Angeles," explained Davidson. "I told him about Red Road Immersive, the Dolby Atmos studio I had built during lockdown. He then talked to the band and they decided to remix the live set at Red Road for release on Apple Music."
The studio is based around 14 KV2 EX Series speakers and is the first studio in APAC to be certified by Dolby. Trewin was extremely impressed with the sound of the KV2 9.1.4 Dolby Atmos system, as was Dale Becker from Becker Mastering in LA, who commented: "Wow, friend, you do quite the incredible work. This translates to my room perfectly. I'm so impressed!"
Fast forward to August 2022 and RÜFÜS DU SOL are in Prague as part of their European tour. The opportunity arises for the band to use KV2's flagship VHD5 system, and thanks to Trewin's extremely positive experience with KV2 products at Red Road Immersive and then at the legendary New York club, Avant Gardner, he jumps at the chance. 
"RÜFÜS played the Cityfox Odyssey over New Year's Eve at Avant Gardner this year, and they loved it," remarked Davidson. "Avant Gardner is one of our biggest VHD5 installations to date and sounds amazing. Cam was delighted to be able to use one in Prague."
In conjunction with UK-based production company, Production Value, who was responsible for the European leg of the tour, KV2 supplied a VHD5 system for main left and right, plus 16 VHD4.0 subwoofers combined with four VHD218J subwoofers in a cardioid configuration. Four EX26 provided front fill.
"It was great to hear the VHD5 system stretch its legs on the RÜFÜS DU SOL gig – for me it really confirmed its standing as the best large format point source system on the planet," said Davidson.
Trewin was just as enthusiastic: "I was very impressed with the power output of the VHD5 system and the even coverage and clarity in the top-end. The subs had great low information and response, especially for a show like RÜFÜS DU SOL which demands clean undistorted sound with powerful bottom-end."