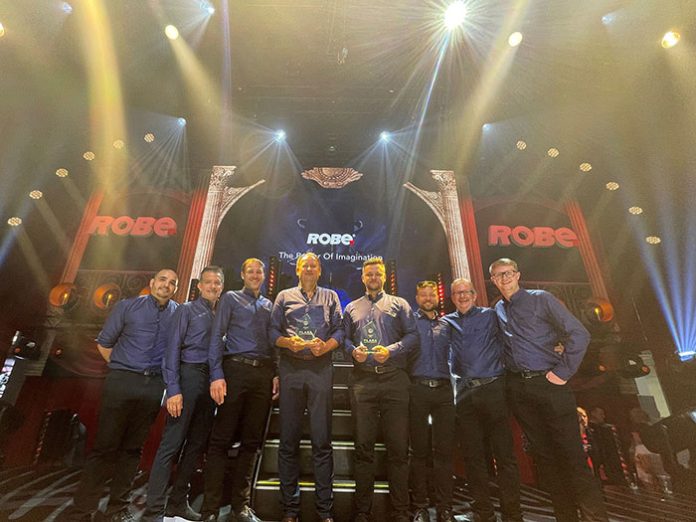 Robe has received two PLASA Innovation Awards for its Footsie and iFORTE LTX products at PLASA 2023. 
Also previewed were new Robe products, the HolyPATT and MolyPATT, both new additions to Robe's PATT range of luminaires.
Six Robe NRG (Next Robe Generation) students from five associated colleges worked alongside the Robe international team, with one assisting the Avolites team, all gaining valuable experience, contacts, and insights into the world of production technology. Three of the students operated RoboSpot systems during the live shows.
Using around 200 lighting fixtures, the live show was storyboarded, designed, and produced by Robe's creative team led by Nathan Wan and Andy Webb with Jordan Tinniswood and Tomáš Kohout.
"The goal is always to illustrate the versatility of the products and how it is possible to hop from one genre to another using them and also how they can all work together," explained Wan, who also created all the video content.
Wan noted that the products assisted in pushing the visual bar higher, particularly in Olympia's Grand Hall. 14 iFORTE LTXs were at the heart of the lightshow together with the other two new fixtures – FORTE Fresnels and PCs, mostly rigged on the over-booth trusses.
A row of iFORTE LTXs on the upstage edge of the stage blasted through for retinal disruption, while 360-degree rotating TetraXs clad the upper balcony section on vertical bars and provided back-of-shot texturing.
Also were LEDBeam 350s and PAINTES across the lower sections of the stage together with Footsie. Robe's T1 Profiles were used on a three-way RoboSpot remote follow system and T11 Profiles, PCs and fresnels were also on the rig for fillers and to highlight the set and scenic elements.
One of the numerous finishing details was the six MolyPATTs across the downstage edge, based on the casing of Robe's popular PicklePATT, complete with lamp holder for a 'squirrel' filament bulb. On the back were six HolyPATTs. All lights were programmed by and run to timecode via an Avolites D9 console.
The Avolites booth was positioned adjacent to the Robe booth along one side, while on the other side of that wall, the 'Robe Village' continued, with the stand of architectural sister brand Anolis; engineering control solutions specialist Artistic Licence, and fog/haze MDG Fog Generators completing the triumvirate of brands with which Robe collaborates.
Robe's architectural and LED lighting brand Anolis had its own space on Stand C28 that highlighted its new CalummaTM, AmbianeTM and EminereTM product ranges. Artistic Licence also had its own area on Stand C28 showing a selection of lighting control technology.
MDG were also located in the Robe Village. PLASA 2023 saw the finalisation of a deal announced in June with Robe acquiring the UK-based lighting control manufacturer, Avolites – who presented its newest console hardware, the T3, along with its flagship Diamond 9.
The Q3 media server was showcased demonstrating Avolites' Synergy feature set.
Software platforms Titan, Ai and the newest media software platform Prism were the main features of this year's PLASA stand, all supported by Avolites' networking products Titan Net Switch and Titan Net Processor.
The PLASA Innovation Awards are run in association with LSi (Lighting & Sound International) magazine and honour technology that improves safety, efficiency and performance through new methods and materials.
40 products were entered this year, winners were chosen by a diverse judging panel comprising 12 independent technical specialists, and Robe was delighted to pick up two of these to add to its growing collection.
Commenting on the iFORTE LTX, the judges said: "The full feature set in an IP-rated enclosure allows the light to be used as a long-throw or short-throw follow spot, as well as a good moving light."
The Footsie, they reckon, "will be welcomed by anyone needing to route cables across the front of the stage."
The Awards were collected by Robe CEO, Josef Valchar and theatre and product development specialist, Dave Whitehouse. Valchar enthused: "It's always a great honour to receive a PLASA Innovation Award and especially because you know that it is being judged by your peers and by industry professionals who are not easily impressed. There was stiff competition this year, and of course we are all delighted to have won. It's a great tribute to the hard work of our R 'n' D team and the foresight of our product specialists. As a company, we are dedicated to constantly pushing ideas and invention to create the best solutions!"
In addition to the award-winning iFORTE LTX, Robe launched two other luminaires, the FORTE Fresnel and FORTE PC.
Robe UK Sales Director, Ian W Brown commented: "PLASA 2023 was a tremendous success for Robe UK. The amazing show brought the show floor to a standstill and allowed our customers to see all the newest lights in action. We saw people from all over the UK, Ireland and Europe proving PLASA really is a show where business gets done!"
Robe UK Head of Marketing, Theresa Gibson, added: "The vibrant atmosphere of PLASA London delivered three exhilarating days of high calibre visitors from a wide cross section of the industry, giving us the perfect opportunity to reconnect with our existing customers and forge valuable new relationships, whilst providing an excellent platform to showcase Robe's newest technologies. We were proud to return as headline sponsor and continue our long-standing relationship with PLASA which saw an increase in visitors from the UK and Europe, also attracting customers and distributors from further afield like South America and Southeast Asia who joined us on the booth. PLASA London always delivers lots of magic with the best of our industry all under one roof and 2023 was hugely invigorating and no exception."