Thomas Giegerich and his team at bright! studios, based in Frankfurt, Germany, were already planning to add a new 'extended reality' division to their visual design and services business at some point during 2020, which was in anticipation of it being more widely adopted – in particular – by television productions and video projects.
The team at bright! studios were already working with real-time tracking and real-time rendering software like Unreal Engine and Notch as part of their creative workflow, as well as running a busy show and events equipment rental company from the same premises, so combining these skills into a new product was a logical step.
Furthermore, with the launch of the xR services department in mind, they had already built a small production studio and produced some demonstration reels in January 2020. As soon as the COVID-19 pandemic spread around the globe, these plans were accelerated as they fast-forwarded their timeline from 12 months to 12 days.
In that time, the first iteration of a fully functional streaming xR studio started receiving bookings almost immediately as live events were shutting down worldwide. More space was cleared in the warehouse by moving some of the events kit into exterior storage and the bright! Virtual Production Studio was born.
The initial studio set up includes Robe ESPRITE LED profiles and Spiider LED wash beams for front and overhead lighting, with some LEDBeam 150s for back light. The studio area is equipped with a 7m by 4m, 2.8mm LED back wall and a 7m by 3m LED floor with 6mm pixel pitch. Another 12 sq m of the 6mm screen panels are flown at the front and sides of the space serving as the basic general lighting sources.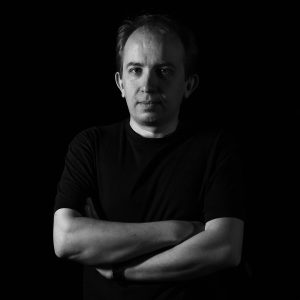 Moving lights are positioned on a ceiling grid above, poking through the gaps in the side LED panels, carefully positioned, and used to create excellent key lighting, effects, and shadowing. Giegerich selected ESPRITES for their LED light engine and natural looking white light output. "We are still doing a lot of research with this project," explained Giegerich. "While we were considering the concept for some time, when it then came together so quickly, some fluidity was inevitable, we all had so much to learn. Now, we are settling into to some standard routines and practices and still constantly trying out new ideas."
The space houses an MA Lighting grandMA3 console, a Blackmagic Design URSA camera system equipped with a Stype tracking camera. While 3D tracking data is handled by a Stage Precision system. "A virtual studio will certainly dramatically alter the way set and visual designers are able to work and it will also have a cost advantage to TV and video productions wanting to bring higher production values to their broadcasts and footage," he concluded.