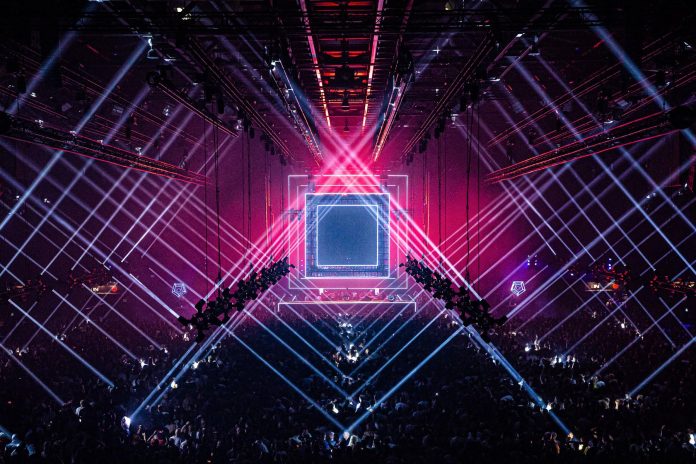 Staged at Palais 12 in Brussels over the course of two days, the Rave Rebels XXL Weekender celebrated a welcome return to live events with production design by Thomas Boets, featuring some 200 Robe Pointe moving lights.
The show design brief from organisers, Jens Grieten and Nick Ramoudt, was to keep the production design "industrial" – raw, stark, high tech and with a massive impact – like the club's vibe, but on a super-sized scale to enthral 30,000 techno fans.
Boets collaborated with several talented creatives including Head Content Creator and VJ, Rene van Dijk; Lighting Programmer and Operator, Kristof Blancquart as well as Automation Designer and Operator, Rik Uytersprot of Gravity.
Planning this project started months ago – when live shows still seemed on a distant horizon – and it was equal parts exhilarating and satisfying, according to Boets. "Not just to create a truly amazing space and moments, but even to be working on an actual live event again, with a fantastic musical line-up and a real audience to entertain and impress!" he enthused.
Movement underlined the entire visual concept, with 66 axes of automation installed around the venue. A 7m by 7m 'picture frame' centrepiece which tracked over 54 metres from the 'home' position just upstage of the DJ booth, out to FOH – and back – was constructed from trussing with a holo-LED surround and filled with a selection of lighting fixtures, in addition to a central blow-through screen for laser 3D logo projections and other animations.
Helping make the frame 3D was a six by six back-light matrix of 36 Robe LEDBeam 150s, with 20 Robe Tetra2s framing the trussing periphery. "When this impressive structure started to move, we could literally create a tunnel of light through this matrix of lights," Boets remarked.
The show's visual cues were linked via a network running Art-Net and PSN (PosiStageNet) protocols, designed so lighting, automation and video worked seamlessly, allowing synchronous looks involving lighting content, motion and two industrial robots rigged on special 2m plinths either side of the stage.
Two large ex-automotive industrial robots – the result of a serious research mission by the creative team and Lead Robot Engineer, Bram van Hansewijck – were decorated with LED strips.
Programmed over several months in their native protocol, this was also decoded and integrated into the show control architecture by networking specialist, Roel Apers and Systems Engineer, Joost Potters, allowing the robot motion to be triggered from the grandMA lighting console.
"We wanted to take the audience on a full visual out-of-body experience to match the musical one for the hours they were in the venue, pick them up and spin them around," explained Boets. "Lighting was a vital component of this very big visual picture, and while there were obviously a lot of lights on the show, the Pointes at the core set the scene and underlined everything."
Out in the arena rigged on 16 moving trusses were 128 of the Robe Pointes attached to custom brackets so they could attain the exact angles Boets required to get the beam geometry shooting correctly across the venue. "These were the bedrock for all sorts of crazy effects," he noted.
These trusses also contained strobes pointing up to light the massive roof, plus some helix lights pointed down to light the audience. The structural elements of the fixtures and metalwork itself was highlighted by helix lights beaming down from the mother-grid above.  
As well as super quick fixtures with a battery of available effects, Boets needed the Pointe's brightness to compete with two large columns of LED that flanked the picture frame at the stage. He specifies Pointes regularly for techno events as "they are the most awesome fixtures for lighting techno – especially with the beam and shuttering effects that are achievable".
Running all the way down the two sides of Palais 12 were two continuous 54m trusses – also on motion hoists, dubbed the 'Anacondas' as they snaked down the venue. Rigged on these were a single Robe BMFL WashBeam at each end and 760 LED strips in between. The beams from these four BMFLs produced a massive square of fat shafts of light framing the whole arena with lighting. "We simply needed huge beams in these positions, so BMFL WashBeams it was," Boets reported.
Over the stage above the DJ booth were five 2m trusses – also on the automation system – each with two Pointes, a Tetra2 moving LED batten, a moving bounce mirror and a colour laser which was automated up and down.
Six motion elevators positioned in between the subs stacks each had two Pointes attached, which worked in tandem with the fixtures on the five short trusses. In addition to Robe fixtures, around 400 other light sources completed the lighting design, which was operated by Blancquart using a grandMA3 console with a GM3 light for back-up.
Lighting, video and sound equipment was supplied by Lust for Live. 
The wider team comprised Technical Manager, Sam Elitas; Head Rigger, Rene Bruisten; Systems Engineer, Joost Potters; Data Processing Specialist, Roen Apers; Video Operator and Content Creators, Rene van Dijk and Rodrigo Guzman; Laser Operator, Jeroen Claes; Audio Operator, Memet Ekici; Sound Engineer, Manfred Kedde; Production Assistant, Joris Bensch and Stage Manager, Thomas Moon.The on-site team was led by Nick Levens and Ilse Wilcox.