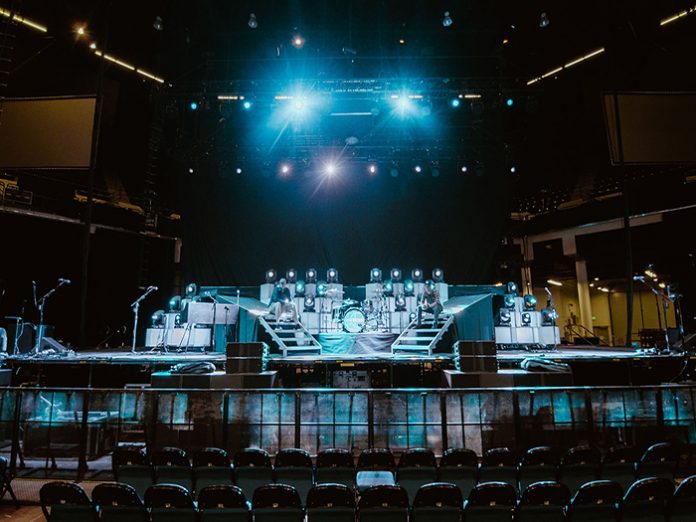 American country music singer, songwriter and rising star Kane Brown hits the road opening for Chris Young's Losing Sleep tour, with LD Andrew James turning to Robe moving lights.
Specifically, 18 Robe Pointes and 5 Robe Spikies – supplied to the tour as a specials package by 4Wall Nashville. "They're [Robe Pointes] super versatile with strong beams and also a great wash with the frost incorporated; the colours are bright, the gobos cut through and … they hardly ever break! Perfect to fit my needs!" he declared.
James has been working with the artist for just over a year, and it's one of his first projects as a freelance LD following an introduction from his friend Erik Parker, LD on James's first tour, NEEDTOBREATHE.
This is the first time he has used Robe Spikies, picked as a punchy small LED source primarily to silhouette the band and Kane during the show. He commented that the zoom is really advantageous together with the continuous pan and tilt which, although used sparingly, unlocks some "really cool effects". The Robe Spikies are mainly for back lighting, and often zoomed in for additional beams.
All the Robe fixtures are mounted – and live – on the cubes, designed for an expedient footprint in the truck, to make load-ins and load-outs quicker and to rationalise the focusing process. While the Robe Pointes provide the majority of the onstage beams and create some great looks, and combined with the frost filter, are utilised to wash the stage and the white set in colour.
James has used Robe products before, either on tours or locally supplied gigs. He sees a lot of Robe BMFLs in action and thinks it's a great fixture and still the brightest and most adaptable on the market for large shows and 'sky packages'. He's always been impressed by the quality of Robe's products.
This Kane Brown tour is also the first time he has been in the position of designing and specifying a lighting rig and he's very happy to be able to partner with Robe in a creative context. "They produce high quality, very reliable luminaires, and there are constantly new and interesting products on the horizon that really fit the needs and demands of designers and shows."
The overall look to the show is upbeat, bright and colourful with a bit of a party vibe, and from there, he interprets each song's lighting according to rhythm and narrative. He programmed and is running the show – which also includes some other beam lights and LED PARs – on an MA Lighting grandMA2 light console. Joining James and Tyler on the road is Kane brown's FOH engineer David Loy.