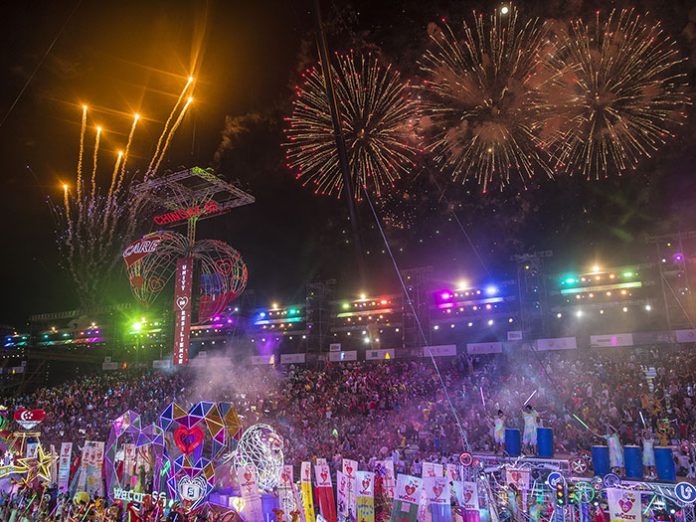 Over 400 Robe moving lights boosted the magic and spectacle of the 45th Chingay Parade Singapore on 11th and 12th of February to celebrate Chinese New Year, The Year of the Rooster.
Javier Tan's colourful high-impact lighting design matched the glamour, glitz and exuberance of the high profile public event, featuring a cast of 8,000, creatively directed by Fan Dong Kai and staged at the F1 Pit Building in the city centre. The three hour visual extravaganza featured a dazzling array of costumes, 12 elaborately decorated and illuminated floats and five giant puppets.
To help wash the parade route and the six massive grandstands which accommodated 30,000 spectators, Tan specified 216 BMFL Blades, 56 BMFL WashBeams and 112 Robe ColorStrobes. Additional wash lighting was provided by 56 Robe LEDWash 600s, with all the event's lighting and audio kit supplied by Singapore rental company, CSP Productions.
The lights were rigged on a series of gantries and towers erected along the backs of the seating grandstands on both sides, arranged in layers to add depth to the picture and emphasise the dimension and scale of the space.
The BMFL Blades were on the middle levels with the WashBeams on the tops of the towers, easily dealing with the 65m throw distance. The ColorStrobes were positioned on the upper gantry rail, all the way along, where they could easily immerse the entire crowd and performance area with colours and effects.
Four lighting consoles were used to run the show lighting, which also included some other moving and LED lights plus 40 fog machines. He worked with his regular team of programmers, Clement Cheong and Joyce Goh.