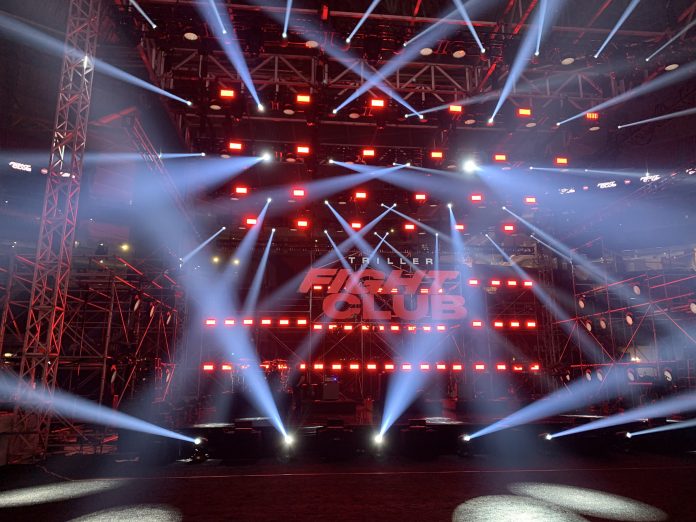 Lighting Designer, Tom Kenny utilised around 400 Robe moving lights housed on an expansive lighting rig for the debut of Triller Fight Club – a new PPV entertainment and sporting concept – founded in partnership with Triller and Snoop Dogg.
The inaugural Triller Fight Club event was staged at the Mercedes Benz Stadium in Atlanta. The four-hour broadcast was conceived by Ryan Kavanaugh and filmmaker, Bert Marcus ans featured 'festival style' sets from Justin Bieber, The Black Keys, Doja Cat, Saweetie, Diplo, Major Lazer and Mt. Westmore, featuring Snoop Dogg, Ice Cube, Too $hort, and E-40.
The event was staged behind closed doors due to COVID-19 regulations. However, 100 'golden ticket' holders were able to experience the atmosphere live, chosen via promotional contests on the Triller app. Kenny was invited to create the lighting design by Alex Kolb. "It was absolutely fantastic being there – like being at a big rock concert," stated Kenny, who added. "It was just the tonic that all of us involved needed!"
Kenny worked in partnership with Kolb and Artistic Directors, Mike Hess and Juliana to devise the massive 500ft wide by 200ft deep scaffolding set structure for the performance segments, complete with passages, stairs, walkways, corners, etc., which surrounded and integrated the boxing ring and stage. Over 2,000 lighting fixtures were rigged in all corners of the structure. Kenny referred to the aesthetic as an "old school Studio 54 vibe reimagined in a contemporary setting."
The lighting rig was supplied by PRG – together with the video elements – and featured 250 Robe Pointes, 44 LEDWash 1200s, 41 Spiider LED washes and 20 Robe BMFL Spots. An MA Lighting grandMA2 system handled lighting control.
The FOH visual team included Lighting Programmer and Operator, Mike Appel, Lighting Programmers, Jess Baker and Josh Beard as well as Lighting Director, Mark Klopper. DOP, Rick Segal was joined by Terry Smith and Rob Russell along with PRG Lighting Technicians, Luke Lewis and Luke Pritchard. Lighting Director, Tim Donovan handled the Boxing Ring Stage, while Media Server Operator, Tony Caporale and PRG Account Handler, Anthony 'Looch' Ciampa made up the bulk of the technical production personnel.