The incredibly sad news that Global Infusion Group Founder and CEO, Tony Laurenson, had passed away suddenly at home on 19 January sent shockwaves around the industry. His family and colleagues have been overwhelmed by the outpouring of love from all over the world such is the legacy that he leaves.
By the early 1980s, Tony had already forged a career in catering, having spent time in the Merchant Navy. A conversation with friends revealed that no one was really catering for musicians when they went on tour and that many bands were spending a small fortune eating out each night.  Tony saw an opportunity and Eat to the Beat was launched on 7 February 1984. Initially working from his parents' garage with just a flight case, he headed out on tour with Joe Jackson and Iron Maiden in that first year.
It didn't take long for other top artists and bands to be enticed by delicious food, the friendly and professional approach and ultra-efficient logistics services. Very soon, Eat to the Beat was touring with Joe Cocker, The Cure, Cliff Richard, Frank Sinatra, Van Morrison, Shakin' Stevens among many other famous names of the '90s. When Tony was told the catering for crews and stars backstage was often better than the food being served to VIPs, corporate guests, or paying punters in front of house, he launched a corporate hospitality division. In 1991, Eat to the Beat blossomed into Global Infusion Group, which now includes GIG, the catering and hospitality division that Eat to the Beat is part of, along with sister company Bonnie May Food & Events and e2b, its brand logistics division.
The industry awards came rolling in, and with continued support from suppliers, partners and clients, Global Infusion Group expanded across Europe and USA, and into the Middle East and Asia.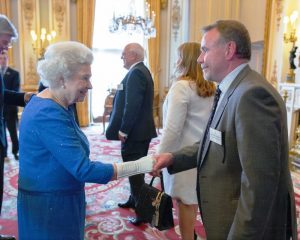 Today the company's client list includes The Rolling Stones, Red Bull (over 20 years), Coldplay (17 years), Glastonbury (over 30 years), Cirque du Soleil, multiple winter and summer global games, European Games, the National Television Awards and numerous prime time TV shows. Tony's career highlights include so many of the most prestigious events held in the past four decades: delivering 37 kitchens at London 2012, the only caterer to fully operate a VCP from their own site; catering for numerous royal occasions – the Queen's 90th Birthday, Golden and Diamond Jubilees, Queen Mother's 100th Birthday and Diana, Princess of Wales memorial; Live Aid and Live 8; Nelson Mandela's 90th Birthday concert, Papal visit in 2010 and Frank Sinatra's final tour.
One of Tony's proudest achievements was consolidating the individual Global Infusion Group businesses under one roof at a brand new 84,000 sq ft facility in Aston Clinton last July. While development of the site was initially delayed due to the pandemic, work on a state-of-the-art Central Production Unit (CPU) / working kitchen and multi-tier racking system is now underway. The entire team is committed to driving forward with Tony's ambitious plans for the business and fulfilling his dreams.
Under Tony's leadership, Global Infusion Group has won over 60 awards during its 37 years in business including the Queen's Business Award for Enterprise in International Trade in 2014 and 2017. Such was Eat to the Beat's prolific success at our very own TPi Awards, we entered them into the Hall of Fame in 2016, having taken the crown of Favourite Catering Company more than 11 times in succession.
Tony innately understood the importance of strong relationships and sharing industry best practice. When the PSA was formed in the early 1990s, he was among the forward-thinking founding members who knew that the industry had issues that would be better addressed by one voice. As a staunch supporter of the association, he would always champion the industry's crew. The 'Donations not Carnations' fundraiser for Stagehand, the PSA's Benevolent Fund, is a fitting tribute to honour his memory. At the time of going to press, over £20,000 has already been raised, such is Tony's standing in our industry.
When asked to share memories of Tony, great friend, industry peer and fellow sailor, Dave Crump, CEO of CT Europe and Middle East said: "I'm not sure when I first crossed paths with Tony although have no doubt, I got to enjoy the excellent fruits of Eat to the Beat's labours long before I knew him personally. I first recall getting closer to Tony around the time of the inaugural PSA conference, which I believe was around 1998.
"In the following years, we both became intently aware of the importance of networking and sharing best practice with like-minded peers in the industry. Alongside the PSA, we were active members in 'The Event Team' – a networking group formed by the late Alan Jacobi that continues to this day and has been a catalyst for so many great initiatives, especially around developing export markets in the Middle East and more recently Asia.
"I have so many amazing memories of UKTI (now DIT) organised trade missions to various far-flung locations; Tony was always there, always doing his best not only for GIG, but for everyone else on the trip and always, of course, able to party to the very end.
"Tony's pride in everything he did – his business, his family, his menagerie of animals and everything British – was infectious and an inspiration to us all. In remembering Tony, I struggle to think of a single individual who was so universally respected and so universally popular in our industry. Through all this or perhaps because of all this, Tony became one of my closest personal friends. We shared a love of sailing along with so many of the good things in life.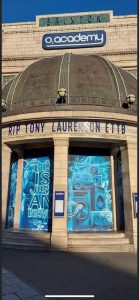 "Like so many in our industry I already and will continue to miss him terribly. He leaves an amazing legacy, a great team and I know that Bonnie and all at GIG will be feeding and entertaining our world for a very long time to come."
Jeff Burke, Director of ES Global, described Tony as one of our industry's pioneers, saying: "Tony was innovative, creative and always looking after people, always with great humour and humility. Travelling the world, looking for new markets and educating local people in the ways of Global Infusion Group was something Tony thrived on in recent years and I was privileged to join him on that journey. I have so many happy memories. I'll miss him."
Dick Tee, Managing Director, EnTEEtainment added: "I can't remember when I first met Tony – he just seems to have been around forever! I know he was always on hand supporting the Eat to the Beat troops at so many events with me over some 25 to 30 years – Glastonbury Festival, Festival of the Sea, Medway Castle Concerts, Reading Festival, Marks and Spencer Celebrate Tour – the list goes on and on. He was an amazing and innovative businessman and achieved so much in his field, winning many accolades and awards including recognition by HM The Queen. So impressed was I with his work that ETTB even catered at private events for me, including my wife's 30th birthday and years later our Silver Wedding Anniversary.
"We both set up our businesses around the same time in the '80s and he was a 'kindred spirit'. On a personal level, I recall with great fondness garden parties at his home and an amazing clay pigeon shooting day trip on a barge up the Thames Estuary. His jovial and cheeky demeanour was so infectious, in fact, I think he must have been born with that 'smile on his face'. It was impossible to feel down and depressed when in his company. As I have said previously, the term 'Legend' is overused these days – but not in Tony's case. A true Legend – a kind, generous and talented person whose premature passing has touched the hearts of so many."
Bonnie May, Tony's wife and Global Operations Director of GIG, added: "Tony was my world! We worked side by side for almost 33 years and were a couple for the last 18 of those. Tony's enthusiasm, loyalty, determination and infectious sense of fun were present in everything that he did – family, friends and business.
"As a family, we found a quote that we loved, and we think pretty much sums him up perfectly: 'Your body is not a temple, it's an amusement park… Enjoy the ride!' by Anthony Bourdain. In the days, months and years ahead we, and our extended Global Infusion Group family, are all totally committed to 'ride on' and make him very proud of us all."
This article originally appeared in issue #259 of TPi, which you can read here.