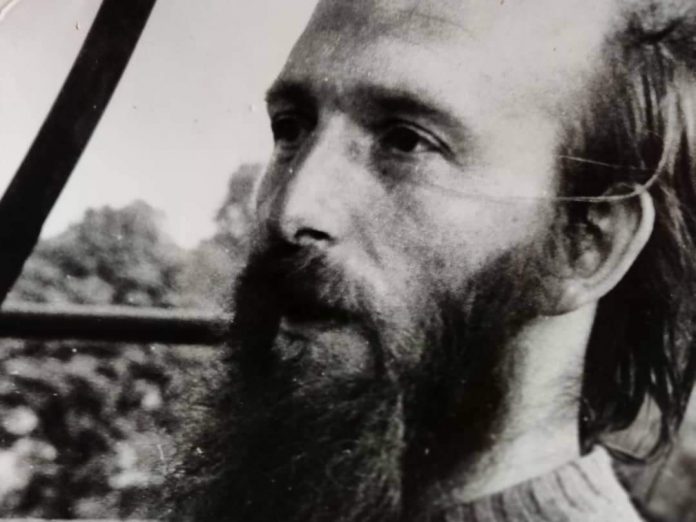 A tribute by son, Will Harkin
Bill Harkin, constructivist. His work could leave you with more questions than answers, but it always excited and captivated – whether it be his geometric carvings etched into Welsh slate or his iconic stage and set designs.
His lightweight, tensile designs had a lightness to them, as like a single pencil stroke, enough to define the shape, but not too much as to ruin the lines. Nothing in nature comes in straight lines, he would say. In contrast, Bill would also use strong geometric shapes in his work to give strength to its structure and resonate harmoniously with the patterns of sacred geometry; this was present in both his carvings and his stage designs.
Bill was passionate about classical and world music. He loved the complexities, rhythms and timeless sound of Middle Eastern music, he cared greatly for the plight of the peoples he loved so much, caught up in relentless, senseless conflict after conflict.
Bill, as a father and a friend, was a kind, gentle and inspiring man who had a way of leaving you feeling more enlightened, empowered and loved than before.
If you would like to do something in his memory, then please make a donation to www.islamic-relief.org.uk/yemen-emergency-appeal
Tony Andrews of Funktion-One
Bill Harkin was an inspiring human being who introduced me to the omnipresence of cosmic geometry during the time we were involved in the founding of Glastonbury Festival 1970/71. We also worked together again on Glastonbury designing and implementing the first permanent Pyramid Stage some 10 years afterwards.
When I first met Bill at the foot of Glastonbury Tor, he appeared out of nowhere bearing tea and looking just how you would imagine the wizard Merlin to look. The whole effect was greatly enhanced by a crystalline starry sky that he seemed to be at one with. He was an inspiration and became a great friend. I hope he found me to be the same.
This article originally appeared in issue #260 of TPi, which you can read here.