Having first studied to be an architect, a chance encounter with a friend saw Raquel Rosildete drawn into the world of theatre lighting in 2011. Since then, she has walked the line between architectural lighting and theatre design. Based in Berlin, she enjoys the ability to flit between these two worlds, but like many lighting specialists, the COVID-19 pandemic saw all her shows come to an abrupt halt. During the lockdown, the German government launched a grant research programme to support the arts. Rosildete saw this as her opportunity to explore a subject that had been on her mind for some time – how to illuminate people of colour correctly in theatre and dance, and the representation of dark skin on the stage.
"A few years ago, I was working on a theatre production where the main protagonist was a black man," stated Rosildete, outlining the inspiration for this project. "The other main actor in the shows was a white, blonde haired lady and I really struggled the whole time to get the lighting right. I was frustrated as I'd been working in lighting for 10 years and yet I wasn't able to illuminate someone with my very own skin tone."
Rosildete scoured the internet to find any advice as to how to light people with darker skin tones to no avail. "There were plenty of articles from the photography and film world but next to nothing from theatre – it was disappointing."
After taking notes from some of the research done on photography and cinematography, Rosildete conducted some lighting experiments on her next project which saw her light a theatre production with 10 women – all with different skin tones. "That last experiment was before the pandemic, but when the grants were announced, I knew I had a great basis for an application."
Successfully obtaining the grant, Rosildete set about conducting the first phase of the project, experimenting with different filter colours to test how the colourful light would interact with the skin. Using one colour from one side and a distinct one from the other, the light forces a contrast on the body that white light cannot produce. The texture, forms, and movements of the dark pigmented body were more noticeable on its spatial characteristics.
"I did my experiments with halogen lights rather than LEDs for this project. On the halogen fixtures, I used various colour filters photographing and eventually filming the results," she said. "There were multiple findings, including those with very dark skin tones being lit much better with very saturated colours."
One of the main findings Rosildete outlined was how different skin tones react to light. "Since the Colours In Between project, I request that I do colour testing on all the performers I work with to know what works best for their skin tone. This means I don't have to experiment while I'm on site in rehearsals and can have everything pre-programmed – especially for a solo performance."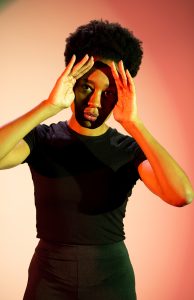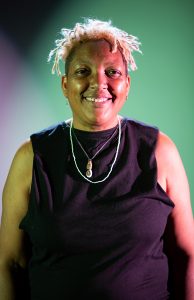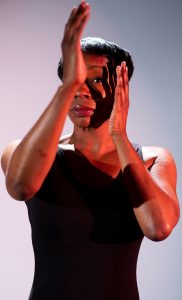 Rosildete shared her hopes of what impact this project may make. "The fact is people know this is an issue and people of colour have always been misrepresented in pictures and on stage. People have been very receptive when I request we do colour tests and the performers have commented that it's great that people are looking at their skin tone and wanted to represent them properly." She also commented how she'd been overwhelmed with the response since the release of the project and hopes that Colour In-between could act as a consultancy brand, pushing for more focus on lighting people correctly.
Although Rosildete's project was focussed on the world of theatre, it's easy to see how this type of work would also be beneficial in live touring. It is why she is interested in doing a similar experiment with LED, which may produce findings that are of better use to large touring lighting rigs.
"I think the biggest achievement is that now if someone searches online for 'how to light people with darker skin in theatre' as I once did, there will at least be something for them to read," Rosildete concluded.
You can read more about her findings and plans for the future of the project on: 
This article originally appeared in issue #276 of TPi, which you can read here.
Words: Stew Hume
Photo: Raquel Rosildete