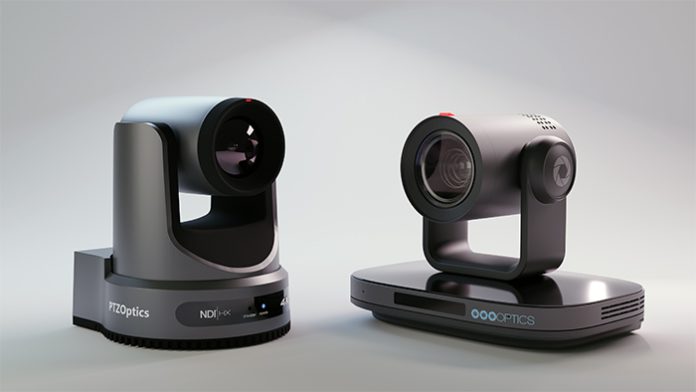 PTZOptics and sister company HuddleCamHD have revealed an ambitious slate of new camera releases.
The PTZOptics Move line is a new line of advanced PTZ cameras. Designed for universal compatibility, every Move camera has outputs for SDI, HDMI, USB, and IP. PTZOptics will offer the Move line with either 12X, 20X or 30X optical zoom, all with built-in auto-tracking capabilities.
The Move line includes both the Move 4K and Move Pro models. Both models are capable of 4K at 60fps (1080p at 60fps over SDI) and feature a built-in tally light. Additional Pro features include:
Upgraded optical lens and whisper-quiet motor
Beam-forming microphones for audio-driven auto-tracking
Onboard LED display showing the camera's video resolution and IP address
The Studio Pro is a camera built for creatives. With a 12X optical zoom, a 72.5° field-of-view, and a built-in noise-cancelling microphone array, this is an all-in-one content creation and livestreaming solution.
The Studio Pro's advanced focus settings allow users to achieve a bokeh effect for creative and stylized visuals. An advanced time-of-flight sensor enables rapid focus on new or moving subjects. Users can swap between landscape and portrait mode via a toggle switch. The Studio Pro comes equipped with an IR Remote, a USB-powered lighting solution with a colour temperature range of 3000K to 6000K, and a cold shoe adapter for mounting the light, a shotgun mic, or other accessories to the camera.
The Studio Pro has an innovative form factor that allows it to be mounted to a laptop or tripod or used as a handheld with equal ease. The camera features simultaneous HDMI, USB, and IP output capabilities and comes with native NDI|HX, allowing it to integrate into any setup with far more ease than a typical DSLR. For flexible deployment, the Studio Pro can be powered via USB, 12VDC, or PoE.
The latest addition to the HuddleCam HD auto-tracking line, the MiniTrack 4K Pro, brings auto-tracking and auto-framing capabilities to a webcam form factor and price point. This versatile, plug-and-play USB 3.0 camera is ideal for videoconferencing, livestreaming, lecture capture and more in small and medium spaces.
The MiniTrack 4K Pro features 8X digital zoom, 108° FoV, and electronic pan, tilt, zoom controls, all in 4K at 30 fps. Using the included IR remote, users can track or frame subjects, set presets using two available preset keys, or zoom in and out electronically. The camera features a wide variety of colour and lighting settings: users can rely on AI-assisted settings to adjust the shot, or fine-tune the camera manually to accommodate any lighting environment.
The MiniTrack 4K Pro is built to travel. Because the MiniTrack is an ePTZ camera with no motorised parts, it is safe and easy to pack for live events or long commutes. The camera is universally compatible with Windows, macOS, Linux, and nearly any streaming, video production, or video conferencing platform. Wherever you roam, the MiniTrack is ready to use within seconds.
"These cameras are the culmination of years of customer conversations, industry partnerships, and R&D," said Paul Richards, Chief Revenue Officer at PTZOptics. "The Move is an exciting addition to our PTZ camera line, offering all the advanced capabilities our broadcast customers have been asking for. The Studio Pro and the MiniTrack have reimagined the webcam for the flexible work and content creator economies. Whatever your environment or budget, we have a new camera that suits your needs."