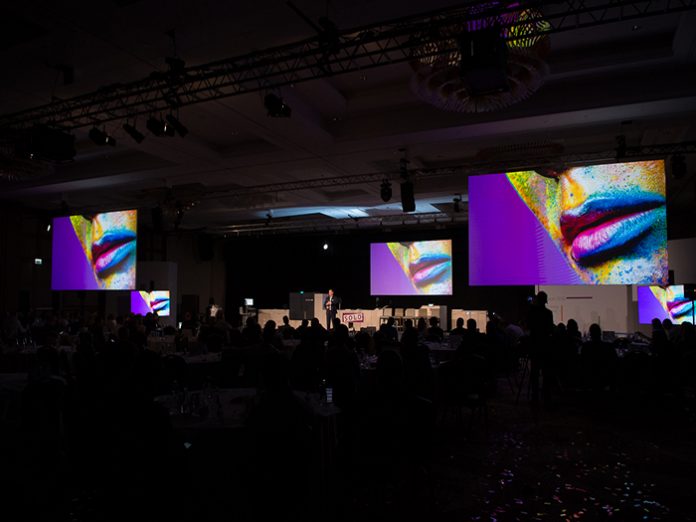 Protec European Events were delighted to partner up with their client Xerox once again to deliver the audio, lighting, video and rigging at the Xerox Forum 2018 held in Warsaw, Poland. 
This event, held in the Doubletree Hilton from 22– 24 May 2018, included 3 days of presentations and 23 seminar sessions with the highlight being the Xerox International Operations Premiere of the new Xerox Iridesse Production Press. 
Xerox hosted 400 of their top graphic communications customers, resellers and business partners from around the world to hear the voice of the industry and provide insights with the theme of "Define Your Strategy, Create Your Future". 
The client trusted project manager Wayne Jackson due to their long-standing relationship implicitly from the very beginning to find creative audio visual solutions to ensure this event was a memorable, engaging and immersive experience.
Jackson explained how they had a three day build with a few manageable challenges. 
"Load in was from the main road so it was difficult for the artic truck to position itself sympathetically. It was important for the crew to be able to offload the truck safely but also to maintain public access to the underground carpark, as well as allowing safe use of the road by local traffic. These factors coupled with an unreliable hydraulic platform lift made things quite challenging but the team remained positive throughout, loading in on time and creating minimal disturbance."
The project ran in a few separate spaces or scenes – a daytime conference, a pre-reveal with Kabuki curtain, the reveal element and finally, the conference and demonstrations on the new machine. The room was quite large, thus the dynamic spaces were facilitated by the removal of drapes and use of different screens and kabuki to open up new show areas.
Sean Godefroy, HOD Protec video, chose 3 Barco 20k projectors, one for each side screen and one for a kabuki drop drape projection. He chose the Christie Spyder X20 due to its flexibility and reliability to cater for any instance. 
"Spyder was used as it allows us the flexibility to be able to send any of the content to any screen. The show up until we arrived onsite was very much subject to change.  So, to give the client confidence in what we wanted to achieve we decided to go with this unit.  It also allowed guest speakers to be able to come to us with a variety of demands of where they wanted content and what they wanted to do with it to have their needs met." 
Several 100m runs of fibre ran to allow flexibility of where FOH was positioned. The projectors were also networked to allow the team control and monitoring, allowing them to be able to react to any issues swiftly. A V6 clicker was used which allowed the video team to switch between clients controlling their presentations or back to themselves.  They were controlled on stage via several DSM where they could see their countdown, notes and their presentations.
The main challenge faced by Godefroy was being adaptable to last minute changes and content inserts which, thanks to his varied and extensive experience he was able to handle in a professional manner and delivered a very clear, sharp projection. He also credits the client for providing excellent quality content. 
The audio team chose the unobtrusive NEXO Geo M6 line array to cover the 6m high, long, wide room. They used 2 flown clusters of 3 units halfway down the room, 2 flown clusters of 4 on the main stage truss and 4 separate units for front fill. The rig was designed by Simon King, PM at Protec, checked by Ben Waters HOD of Audio and operated on site by sound engineer Gareth Taylor. 
Everything was operated from a Yamaha QL5, a desk known for its flexibility and its reliability during presentations and panel discussions, covering everybody at all times with ease for the operator due to its auto mix facility.
The main arrays were supported by four Nexo LS18 subs, all ground stacked which provided extended low-frequency response, particularly important for when the artiste performed in the afternoon before the reveal. Despite being 18" subs they offered a lot of 'chest punch' from a great 80-100 Hz response so were well suited to the artist's genre. 
On stage for monitoring Waters chose to use D&B speakers, powered by D&B D series amplifiers. 
"D&B has a great sound straight out of the box, which is important for stage monitors; the artist needs to not only feel the music, but maintain great clarity to give them the confidence to give a great performance. Once you have a great sounding box you can work on controlling on-stage volume and any potential feedback much easier giving the artiste a better monitor mix overall."
All of the rig was powered by Nexo NX amplifiers, using both the NX 4×4 and NX 4×1 using Soca to keep cabling tidy and easy for what could have been difficult in. Waters explained that the system itself initially was intended to be run over Dante through Cisco network switches straight into NXDT104 Dante cards put into the amps, but, due to diligent and flexible preparation, the system was chosen to be run over AES when on site.
Also prepared on the network was all the RF which was started in the warehouse using Sennheiser's Wireless System Manager. This was key to time-saving with its offline capabilities to pre-program and then when out on-site for RF Coordination.
The main audio challenges faced in designing a system for this event was the changing of the room layouts, it is obviously impractical to change the speakers around every time the room changes. Waters explained his considerations and why he chose the Nexo rig.
"The speakers needed enough power whilst keeping a small footprint to provide emphasis in different parts of the room at different times, this was arguably the biggest deciding factor when choosing the speakers, amount and angles every time."
The design was a success and the audio sounded great with the client commenting on its crispness and clarity. The operator on-site Taylor negated any slap back or reflection from the flat back wall by ensuring the rear speakers were angled to prevent this from occurring. Outside of this, some minor challenges were predicted, whereby speakers arrive during a session and need to be wired up last minute which Protec were prepared for.
PM Wayne Jackson explained why Protec Europe chose the Sennheiser FBG3 wireless microphones. "They provide great robustness and quality. Also, when paired with our Omni head mics, they are an exceptionally reliable piece of kit."
10 Clay Paky A.Leda K10 B-Eyes were the workhorse of the show. The major challenge here was the budget. Lighting HOD Scott Bell and Wayne Jackson designed the show and explained why the K10 B-eye was the fixture of choice. 
"On a tight budget, we needed a flexible multi-purpose fixture that could cater for all needs – walk-ins, stage and backlighting, audience blinders and sweeps for the reveal section. This fixture is adaptable and versatile, capable of strong beam effects, washes and effects lighting. We overcame last-minute stage change challenges due to the ease and versatility of this fixture. The lighting worked excellently and combined with the client's well-designed content and the 20k Barcos, we had no issues with a blowout and the lighting didn't interfere with the projected image in any way."
Scott Bell chose the Avolites Tiger II desk to operate the lights based on its reputation for power, ease of use and reliability. "Our on-site team, led by Sean Godefroy, Scott Bell and Gareth Taylor worked fantastically to deliver a hugely successful event. The client was 'over the moon'!"  Jackson concluded which cements an ongoing relationship with Protec as a reliable and creative AV solutions partner. 
"I have two words that come to mind when I think of Wayne and the Protec team, 'professionalism personified' – they have creative ideas, technical agility and flexible even under "show" pressure. We have a great working relationship with them, they understand our business, they know the personalities and our goals are aligned – we make both our companies successful – now that's a true partnership."