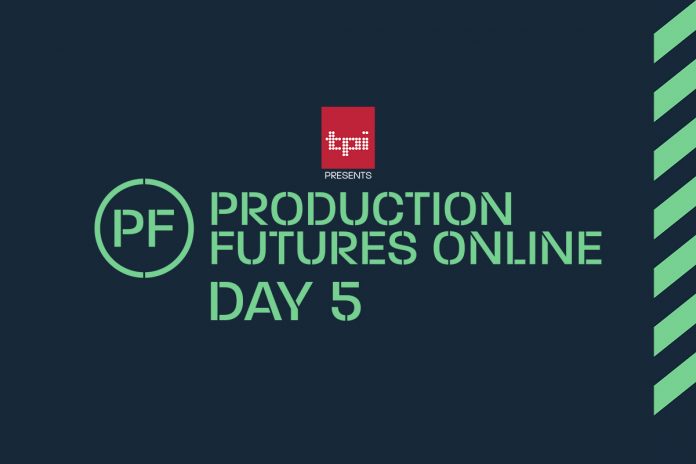 Taking place from 11am to 6pm, Production Futures Online hit the Swapcard app and website platform this week, presenting students, freelancers, and young people across the world (most in lockdown) access to training sessions, workshops, webinars, product demonstrations, panel discussions and interviews with live event experts and TPi Award winners.
First up, Brilliant Stages discussed what it takes to be involved in created some of live music's most impressive spectacles and set the stage night after night for global acts such as Take That, Arctic Monkeys and Beyoncé. Project Manager, Jordan Whittemore beamed in live from Yorkshire at 11am to answer questions from industry newcomers and young people looking to discover more about this side of the industry.
From London's grime scene to a headline set at Glastonbury's famed Pyramid Stage, Stormzy has quickly become the undisputed king of the UK music scene. In a Production Futures Online conversation on Swapcard at 12pm (GMT), TPi Editor, Stew Hume checked-in with Production Manager, Joel Stanley; Tour Manager, Trevor Williams and FOH Engineer, Raphael Williams to recall the artist's meteoric rise – both Willams' have been with the artist every step of the way.
From there, Production Services Association (PSA) General Manager, Andy Lenthall brought together a panel of industry experts – freelance Monitor Engineer, Jac Nott; Chris Parry-Jones (The Gallowglass Group), Dave Keighley (PSA) and Dave Bigg (DiGiCo) to explain what you need to know to be financially stable within the events market.
Applications for the TPi Breakthrough Talent Awards are now open and forms can be found here. Whether you're in the early stages of your career, still studying, or a keen amateur – if you have a passion for live events, then we want to hear from you.
View this post on Instagram
A familiar face to Production Futures attendees and TPi readers, multi-award winning Steve Price joined TPi Editor, Stew Hume for a virtual conversation where he explained that video directing is all about telling stories and capturing moments. Having worked with and calls camera cuts for Queen, Tame Impala to Mumford and Sons among others – he joined us on Swapcard at 2pm (GMT) to impart his camera knowledge and explain how embracing the world of livestreaming could stand you in good stead for the future.
As well as playing host full programme of talks and panels, Production Futures Online is home to various technical production training sessions. During an afternoon session, Production Futures Online attendees were able to learn how to insert speaker objects in Vectorworks and discover how to set up front fills, delays and flown speaker arrays. Vectorworks Specialist, Tom White demonstrated how to attach the flown speaker arrays to hoists and view basic dispersion graphics.
At 3pm, UK Music's Dr Oliver Morris comperéd a panel with Kyoto's Emily Dawson, Touring Production Coordinator, Helen Smith (both of Leeds Beckett University); Monitor Engineer, Daniela Seggewiss; Kyoto's Glen Rowe and Stage Manager, James Hayward, who all give their two cents on how to get your start in the live events sector – and the weird and wonderful ways that they have they managed it.
To cap a successful week of training sessions, workshops, webinars, product demonstrations, panel discussions and interviews with live event experts and TPi Award winners – the ETP (pixl evolution) team discussed how the firm quickly pivoted to offer solutions desperately being sought to keep businesses thriving through these challenging times. With the upcoming build of broadcast studios in several location in the US and London, they demonstrate why the changing nature of virtual events doesn't have to be a scary prospect.
Sign up for your free ticket to view all this week's talks here. If you missed any of the panels, talks, and sessions all of this week's content is available on the Swapcard website/app.