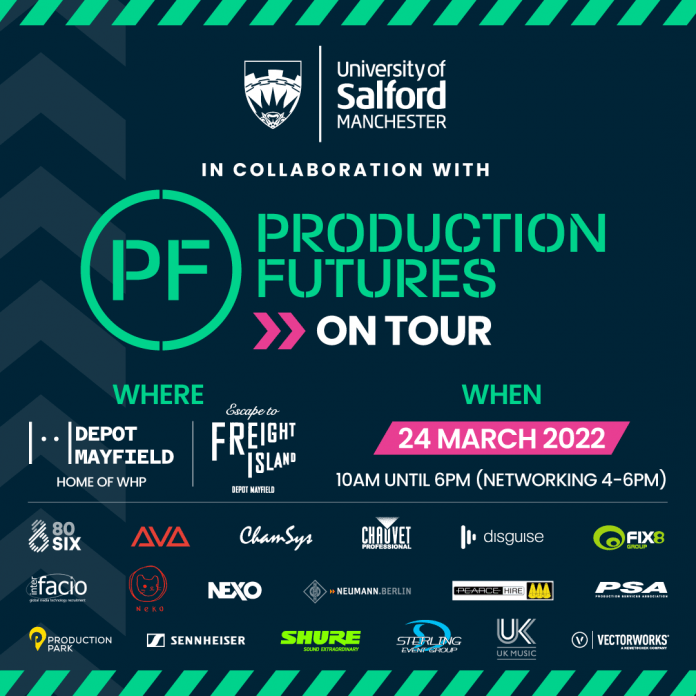 Depot Mayfield, home of The Warehouse Project, is set to host the first Production Futures ON TOUR event in collaboration with the University of Salford on Thursday 24 March.
Production Futures creates opportunities for young people to learn, train, network and develop real careers in production across all aspects of live events, music, touring, theatre, TV, broadcast and film.
The event will promote equality, diversity, inclusion and employability by showing career pathways and placing a spotlight on the hidden job roles within this exciting industry.
Throughout the day, there will be plenty of opportunities for attendees to meet world leading AV manufacturers, production companies and industry experts who will share their career journeys and experiences.
"We're delighted to be collaborating with Production Futures, bringing the creative and digital industries, students, and new emerging talent together. This is a space for employers to meet emerging talent, providing them with a clear understanding of jobs and roles, highlighting the creative and digital aptitudes and skills needed for their careers to flourish," Media City Campus Director, Beth Hewitt said.
"It's also a space for employers to spot talent! Collaborating with Production Futures means championing stronger connections across the creative and digital industries, placing employability at the heart of what we do and centre frame for the new emerging talent across the region."
Production Futures Chief Executive, Hannah Eakins said: "We are thrilled to be launching our first touring live event in collaboration with the University of Salford. Since 2016 we have held annual live shows and invited the young audience to us, so this is a brand-new concept for us to take it on the road.
"We can't wait to get out there and engage with as many young people as possible. We've got amazing speakers from global brands like Epic Games and Live Nation, world-leading technology brands like Sennheiser and disguise and industry experts who deliver the finest productions all over the world. We cannot wait for this show, particularly in our hometown of Manchester, the home of live events, TV, and independent music and film."
The event will take place from 10:00 – 18:00 and you can book your place here: https://bit.ly/3CIgSU8