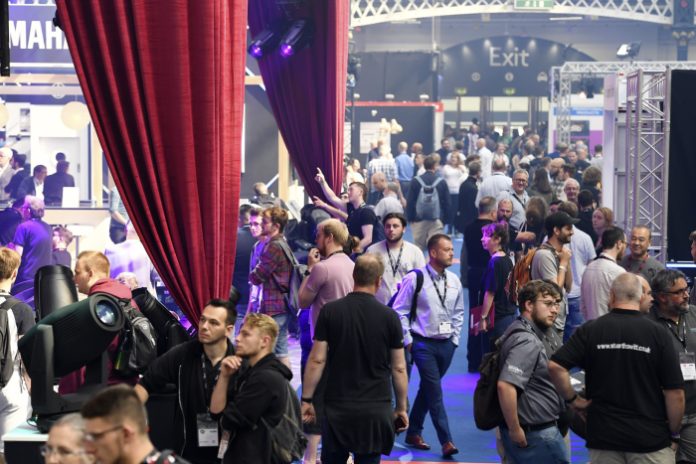 Following a difficult few years for the live entertainment industry, PLASA Show returned to Olympia London's Grand Hall from 4 to 6 September 2022 with a 41% increase in visitors.
Peter Heath, Managing Director for PLASA, commented: "The excitement for the PLASA Show this year was undeniable. Not only did we accommodate several more brands than anticipated, the number of visitors through the door exceeded all expectations. And as I walked around the show, there was a real sense of community and appreciation for our fantastic industry. Thank you to everyone who made this year's show one to remember – live events and entertainment are back on the map!"
Becky Stanton, Marketing & Systems Manager for Prolight Concepts, added: "Well, what an event! PLASA Show this year was probably one of the busiest years to date. It's amazing to think how heavily COVID affected the industry, but that many businesses in the sector have come through the other side and are now back better than ever."
Visitor seniority was high, with 80% in positions with purchasing power. Business owners, directors and chairs were the single biggest visitor group (20%), followed by technicians, programmers, and lighting designers working across venues, rental, and production.
Matt Wiseman, Sales and Business Development for MDG FOG UK, said: "We were very happy with the turnout. Standing out this year was the quality of visitor we enjoyed speaking with. We'll be back next year for sure. PLASA Show has proven again to be a top show for MDG."
Tim Lloyd, Product Specialist for Electro Kabuki, agreed: "We had a great show with plenty of footfall. In fact, we lost count of how many demonstrations we performed. The level of interest was high, as was the quality of visitors. We will be back next year, but in the meantime, we have plenty of new contacts to follow up with."
Furthermore, this year saw over double the number of international visitors, signalling the receding influence of the COVID-19 pandemic.
Amber Long, Media Manager for CAST Group, said: "It was especially nice to see so many international attendees. Some wanted tips and tricks and how-to demos and many were looking for tracking solutions."
Gordon Addison, Managing Director for TechLed, added: "All our products received great feedback which translated into orders and new business. The high quality and diversity of visitors at the show, including international guests, was great and it was good to see PLASA Show back in full flow. We have benefitted from new business opportunities from totally unexpected places.".
Headline sponsor Robe launched the iFORTE moving light at the show, with its IP65 capabilities demonstrated in a signature live performance featuring a torrential downpour. Theresa Gibson, Head of Marketing for Robe UK, commented: "We are proud to continue our long standing relationship with PLASA as headline sponsor. This year's PLASA Show delivered three uplifting days of high-calibre visitors, adding to the excitement of the return of our live shows. The buzz, vibrancy and magic of PLASA Show was definitely felt by all that attended and is what makes this show so special."
Furthermore, Artistic Licence announced its acquisition by Robe at the show alongside launching their railSplit uno. Wayne Howell of Artistic Licence, added: "PLASA Show 2022 was possibly the busiest show in years. We anticipated that the Robe acquisition would generate more traffic, but the sheer quantity and quality of visitors surpassed our expectations."
CHAUVET Professional showcased a bounty of products, including the Maverick Storm 2 BeamWash, the Rogue Outcast 2X Wash, and the Ovation Rêve E-3 IP, all making their trade show debut. Additional lighting debuts included Robert Juliat's Sully 4C and Elation's Proteus, Fuze and KL range. Visitors also had the opportunity to check out the latest generation of consoles, courtesy of ETC's Eos Apex, Obsidian's NX1, and ChamSys' MagicQ Compact Connect.
Audio professionals were catered for with in-demand products displayed from the likes of Audio-Technica, d&b audiotechnik, DiGiCo, EM Acoustics, Out Board, Sennheiser and Shure. Plus, LD Systems celebrated the UK launch of MAILA. Stephen Button, UK and Nordic Trade Marketing Manager for Pro Audio at Sennheiser Professional Audio & Neumann, said: "We had lots of engaging conversations around our new RF system EW-DX, along with Neumann's new Miniature Clip Mic system. The interest was constant, right from the get-go. We couldn't be happier with the people we talked to and the opportunities gained for the future."
Dave Haydon, Director of Out Board, concurred: "We welcomed a lot of interested buyers onto the stand this year, the busy show echoing the huge interest we've seen all year in our spatial audio product range. Alongside significant augmentations to TiMax Spatial Audio functionality and 600-series software, we also demonstrated a smart plug-in for the award-winning TiMax Tracker D4."
Several LED screens were featured at the show, including ROE Visual's new Graphite. Elsewhere, Brompton Technology wowed visitors on the PSCo stand with XR for virtual production, and APT-GB launched the advanced series of their >Teleprompter.video SMV stage-monitor. Le Mark Group also launched forward-thinking accessories including the sustainable Paper-Tak tape.
Three seminar theatres hosted back-to-back sessions across all three days of the show. And with an appetite to succeed in the post-pandemic era of live events, many sessions were standing room only.
View this post on Instagram
Ed Sheeran's design team presented the most popular panel of the show. In front of a full house, they revealed how they created the singer-songwriter's ground-breaking Mathematics touring stadium show. Jeremy Lloyd, Director for Wonder Works Limited, commented: "I've been lucky enough to work on some incredible stadium tours over the years, but Ed Sheeran's Mathematics is definitely one of the most technically challenging projects of my career. So, it was great to share these insights at PLASA Show, alongside Rasti Bartek, Mark Cunniffe and Mike Oates."
This year saw the first all-female panel with Sarah Cox of Neutral Human, Sarah Rushton-Read of The Fifth Estate, Lucy Jenkins of Anna Valley, Kira O'Brien of Fray Studio, Pembe Tokluhan of Petok Productions, and Bryony October, sound engineer and tour production manager. Together, they explored career pathways and how barriers to entry can be broken down. Further conversation about attracting and retaining fresh talent was heard in a panel featuring Hannah Eakins and Jas Parekh from Production Futures, Koy Neminathan from Avolites, Amy Kerr from Robe, Ollie Jeffrey from the Royal Albert Hall, and Terry King, programmer, arranger and production manager.
In addition, Women in Live Music (WILM) presented a panel on the physical and mental impact of overworking and how to strive for a more balanced work life. Malle Kaas from Women in Live Music, said: "Our talk The Show Must Go On – But how far should we go was extremely exciting with a very lively crowd. Many young women also came by our stand, sharing their stories with us regarding being an upcoming female crew member."
Sustainability was high on the agenda with carbon-neutral power at the Commonwealth Games, the Theatre Green Book, textiles, and ways to reduce emissions in events and installations. The programme was also stocked with creative and technical achievements, from designing BMW's HQ to celebrating two decades of TAIT's live entertainment spectaculars. Sam Woodward, Global Senior Technical Communications Manager for TAIT, comments, "We were delighted to meet industry friends at PLASA Show – a busy witness to the revival of live events, with a noticeable increase in visitors. It was especially good to see our seminar at full capacity."
Before the show drew to a close, all eyes were on the future of live events with James Simpson (LSi columnist and Copper Candle director) who explored the possibilities of the metaverse in his latest Future Tech Live session. Following this popular session, James shared: "As the metaverse continues to evolve, trade shows like the PLASA Show will become increasingly important for companies like ours. We are proud to be part of the PLASA community and we are excited about what the future holds for the metaverse."
Live audio demonstrations made a big impression at PLASA Show with three dedicated rooms impressing visitors with the full capabilities of pro sound systems. AED Audio showcased their multi-purpose products which can be arranged into 23 setups; RCF UK showcased the new ART 9 AX range; and KV2 Audio showcased their CS, ES, ESD, ESM, EX and VHD ranges.
In addition, the d&b Soundscape theatre ran seminars on cutting-edge immersive audio, spanning Macbeth at the Almeida Theatre to WOMAD festival. Plus, visitors heard live snapshots of d&b audiotechnik's Soundscape throughout the show. Elsewhere, CH Vintage Audio treated visitors to a huge array of historically important audio gear, used by the likes of David Bowie and Pink Floyd.
Visitors interested in lighting took advantage of free training, courtesy of leading brands. CHAUVET Professional unpacked techniques for architecture, nightclubs, installations and broadcast, and presented the evolution of moving heads; ChamSys granted hands-on access to MagicQ and taught new ways to program; and Claypaky showcased the next generation of lights, lasers and effects.
Plus, Robe ran RoboSpot taster sessions throughout the show. Amy Kerr, Field Sales Support for Robe UK, explained: "The taster sessions at PLASA Show this year gave visitors an opportunity to see the system in more detail and they were also able to have a go at using the RoboSpot. The sessions were well attended, and it was great to talk in-depth and answer questions in a quiet environment."
With unrelenting financial and workload pressure, the need for support is as vital as ever. This was addressed at the show at the #WeMakeEvents Wellbeing & Support Hub which hosted industry charities Backup Tech and Music Support. Backup ran a clinic throughout the show and Music Support was on hand with Mental Health First-Aiders. Plus, the PLASA team offered information on PLASA membership, the National Rigging Certificate (NRC) and #WeMakeEvents.
Ayrton scooped the Gold Award for Cobra and Artistic Licence won the Sustainability Award for their Micro-Scope upgrade kit. Additional Innovation Awards were presented to Minuit Une, Nicolaudie, PMI Gear, Robe, Sauca, Shure and XM Automation. In addition, the coveted Gottelier Award for lifetime contribution to the advancement of entertainment technology was presented to JB Toby, Technical Director for Avolites, who declared: "Receiving this award is something very special indeed… I would like to thank PLASA and the industry for this tremendous honour, and my family for giving me the extra time for innovation to serve this amazingly crazy and creative industry."
First-time exhibitor Daniel Brobbel, Director for Artistic Solutions, said: "After an anxious wait we arrived at the PLASA Show to a wonderful reception. All of our expectations were surpassed after day one. It's been an incredible networking experience and we can't wait to do it all again."
Darren Williams, Technical Director for Solutions on Stage, agreed: "As first-time exhibitors at PLASA Show, we were delighted with the amount of interest in our services and we have some excellent leads to follow up on. PLASA and Olympia were excellent hosts, and we found the whole experience very beneficial."
Justin Levine, Technical Director for Hirehop, stated: "We were very proud to exhibit the PLASA Show again. We not only met with many existing customers but connected with many new companies."
Greg Clarke, Brand Manager for EM Acoustics, added: "This year's show has been extremely successful for EM Acoustics. Footfall over the three days was very good indeed and we had a particularly busy Monday. We are delighted to see the show growing again and will be back next year."
Sophie Atkinson, Head of Events for PLASA, concluded: "Building up from our 'come-back' 2021 show, we knew expectations were high for 2022. But the feedback is above and beyond what we hoped for. I sincerely hope all our exhibitors enjoy a generous return on investment, and that each visitor found their experience valuable. The PLASA team is already enthusiastically planning and developing the show for next year – and I look forward to seeing many of you there."
PLASA Show returns to Olympia London from 3 to 5 September 2023. Register your interest at www.plasashow.com/register-interest