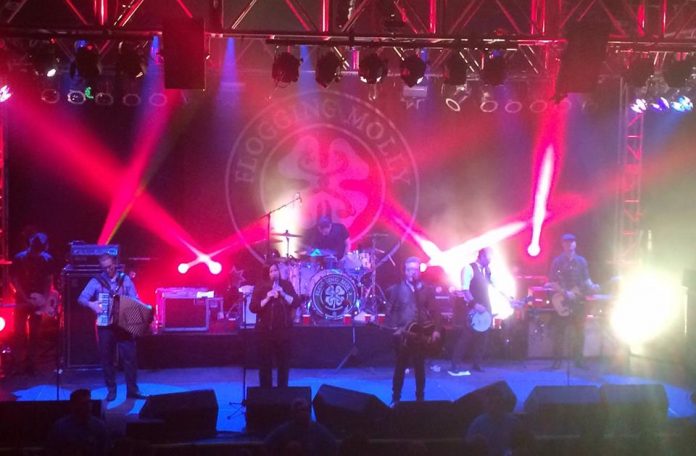 Flogging Molly concerts tend to be raucous affairs with plenty of sing-alongs and foot stomping energy, as this seven-piece band steamrolls its way through its unique blend of Celtic and punk music. LD Peter Therrien of JDI Productions is capturing these good time feelings on the band's current US and European tour with a colourful, fast-moving light show created with Chauvet Professional Rogue and Legend fixtures.
"Lighting this band is a great experience, because they have such a strong connection to their fans and their energy is contagious," said Therrien. "I wanted to give this show some big looks with lots of colour, aerial effects and movement to match the party atmosphere at a Flogging Molly concert. At the same time, I also wanted to be able to slow things down for when the band takes a pause to do ballads and slow jams."
Therrien is getting the energy and versatility he wants with a rig that includes ten Rogue R2 Washes, six Legend 230SR Beams and four blinder panels. His standard plot for the tour calls for a collection of four Rogues and an equal number of washes to be positioned on upstage cases. An additional two Rogues and two Legends are placed on the upstage deck, while two more Rogues are arranged on either side of the mid-stage deck, and the four blinders are flown on downstage truss.
"The Rogue washes are giving me great colour saturation on the stage," he said. "They're also washing the band's iconic backdrop and backlighting the individual artists. I can change the colours I'm creating with the Rogues very quickly and smoothly, which is important to setting different moods. Overall, the rich colours are contributing to the party effect. The audience also loves the scenic gobo looks that I'm wrapping around the band with the Legends. Of course the rapid movements I get with the Rogues and the Legends help our visuals keep pace with the band's music."
Made up of seven energetic members, most of whom like to move around a lot during their performances, Flogging Molly provides audiences with its own entertaining visuals. Lighting each of these members presents something of a challenge for Therrien. "With all those people always on stage, we have to make sure that we light everyone appropriately while not blinding one of their fellow band members in the process," he said. "The zooming features of our Chauvet gear are helping us a great deal in this respect."
Not surprisingly for a group that has been around for two decades and has cut eight successful studio albums, including the gold "Drunken Lullabies," Flogging Molly has an extensive repertoire. Being a fan-driven band, they like to treat audiences to an extensive set list. On the current tour this list reaches 22 or more songs, including some from their upcoming "Life Is Good" album.
Therrien relies on his Rogue and Legend fixtures to keep his show varied throughout the concert. "When you have an extensive set list like this, you want to hold back on some looks early so you can keep things fresh throughout," he said. "With the colour and gobo capabilities I have available to me, this is very doable."
Covering more than 30 cities in the US and a dozen in Europe, the Flogging Molly tour includes a number of widely different venues, from the Cosmopolitan Hotel Pool in Las Vegas, to the LA Forum, to the Atlantic City Convention center and Irving Plaza in New York. "We have to adjust to a lot of different stages and house rigs," said Therrien. "The tour manager Casey Cress and the Flogging Molly crew have been great to work with, which has really helped in these adjustments."
In light of Therrien's extensive international touring schedule with Flogging Molly, it's ironic how the group got its distinctive name. More than 20 years ago, when the band started out, it played every Monday at an LA club called Molly Malone's. They performed there so often that their frontman said it was like "flogging a dead horse." This gave rise to the name Flogging Molly. Now, hundreds of thousands of tour miles later, concerns about playing repeated gigs at one venue seem very far away.