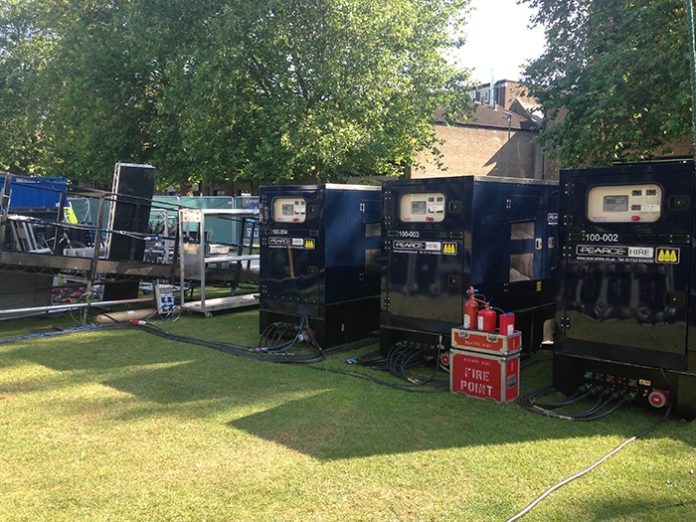 Peterborough-based touring and event power company, Pearce Hire, recently hosted a workshop organised by James Eade with Patrick McGinley from the Health and Safety Executive, for a group of HSE electrical inspectors.
The aim of the day was to share information about the application of generator safety measures, especially in relation to earthing requirements, and to discuss some new safety concepts that Eade is proposing for new IET guidance on the subject.
"The current guidance on generator earthing in particular has not seen many changes for years" noted Eade. "The advent of modern technologies such as inverter generators coupled with the widespread availability of residual current devices for protection is driving a need to revise current practices."
Current British Standards and associated guidance categorises generators broadly as either under or over 15 kVA rating, with differing requirements accordingly. In practice that is seldom the case with modern sets all differing in earthing needs. The events and entertainment industry is probably the largest industry sector using generator-supplied temporary power systems and so changes to standards and guidance can have a significant impact.
Shaun Pearce, Managing Director Pearce Hire said: "It was a very thought-provoking day and an ideal opportunity for us to influence the decisions that will not only have a big impact on our company, but more importantly, our industry.
"We were exceptionally fortunate to have the opportunity to discuss what could amount to quite a substantial change with HSE who were able to bring their collective experience in this area from sectors as diverse as fairgrounds to mining operations" said James, who's aiming to have his new IET site guide published in time to coincide with the forthcoming 18th Edition of the Wiring Regulations.
The workshop dovetailed well with HSE's current #HelpGBWorkWell campaign, part of which is keeping pace with technological (and other) changes. According to the HSE "Tackling the problems of tomorrow today is a responsible investment that protects workers, enables new and different approaches and provides the new knowledge, skills and expertise Great Britain can share internationally."
It also provided an opportunity to show HSE the way in which the events industry manages electrical safety using a combination of regular portable appliance checking and on-site inspection and testing in-line with the requirements of BS 7909. Enforcement of such events usually comes within the remit of local authorities, who may need to revert to HSE for technical support, so it was a unique opportunity to present industry practices and methods to the experts from the HSE itself. Pearce commented that "it was a welcome opportunity to demonstrate our industry direct to HSE and showcase our operation, putting our safety regimes under such an expert review."
In all it was a very successful day with attendees gaining valuable insights into each other's areas, with the collective experience being used to hone the proposed forthcoming guidance.