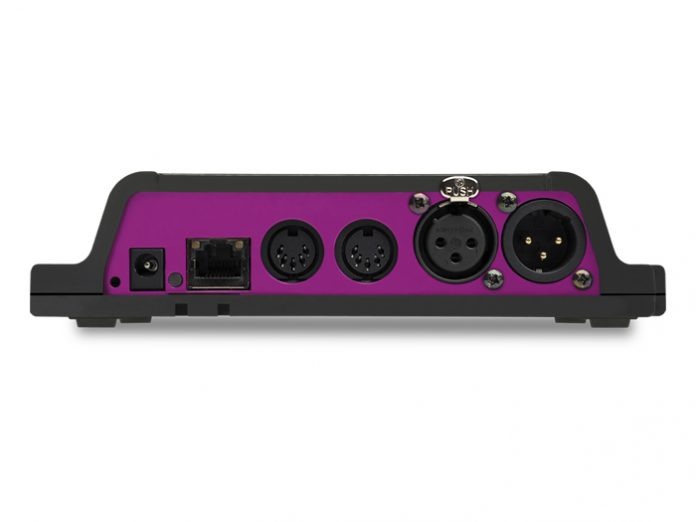 On many major musical artist tours, as well as large scale multimedia installs and shows, SMPTE timecode is often used as a powerful and easy to implement solution, to perfectly synchronize your lasers and lighting, with the BPM of music.
Seeing the increased demand for laser show control of this kind, Pangolin has teamed up with Visual Productions BV, to offer support for their TimeCore device, within the Pangolin FB4 control hardware, as well as BEYOND laser and multimedia control software. This powerful workflow makes it very easy for lighting designers to control an entire laser and multimedia display, to a precise BPM – and over a large quantity of laser fixtures.
TimeCore is a compact device that will essentially handle all timecode related tasks. It can generate, follow, convert, and even display timecode signals, while still being able to handle a numerous amount of non-timecode protocols as well. The TimeCore can be set as either a master or slave, generate or receive timecode, and outputs all of the information in real-time on the large built-in LED display.
TimeCore has the ability to transmit and receive timecode, which allows designers to sync and control their FB4 integrated laser projectors using the ArtNet Protocol from a lighting console without the need for any software running the background. And for situations where even more creative flexibility is desired, designers can further control the effect and content generation tools inside of BEYOND, using SMPTE timecode through the TimeCore device. TimeCore also has the ability to simultaneously control multiple computers that are running BEYOND software and sync them using ArtNet over a single device.
TimeCore also features an entire Web-Interface for setup, allowing to remotely access and manage devices from a over network. The Web-Interface also allows you to communicate with other TimeCore devices and preform various functions such as firmware updates, assign IP-Addresses and more.